For more than two decades, Meaco have continued to push for innovation when it comes to dehumidifiers. So, it should come as no surprise that we chose to feature several of their top products on our site. In this guide, we will review the
MeacoDRY ABC 12L
model, which has a lot to offer.
As the name implies, the 12L is one of the top models from the ABC range of dehumidifiers. This version comes with a larger tank than the 10L, better energy efficiency, and lower noise output than the similarly priced Meaco 12L-AH.
It even rivals other 12L competing models like the Delonghi DEX12 or EcoAir ESSENTIAL Compact. But, what can you expect from it? Read on to learn all about its features, performance, strengths, and shortcomings in our complete buyers guide below.
Prices & information last updated on 2023-11-29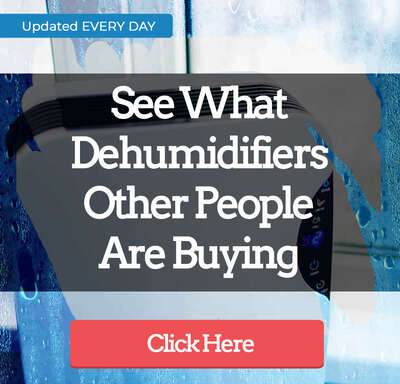 Design
The space needed for the 12L ABC dehumidifier is quite minimal. Measuring 30 x 45.5 x 25 (cm), this unit is quite compact. That said, it is necessary to leave about 50 cm clearance around the sides to allow for airflow.
Weight
For a small-sized dehumidifier, the MeacoDRY ABC may seem a bit heavy. It weighs about 10.5Kg. But this is actually on the lower end of the spectrum when it comes to refrigerant dehumidifiers, which can often weight in excess of 12Kg.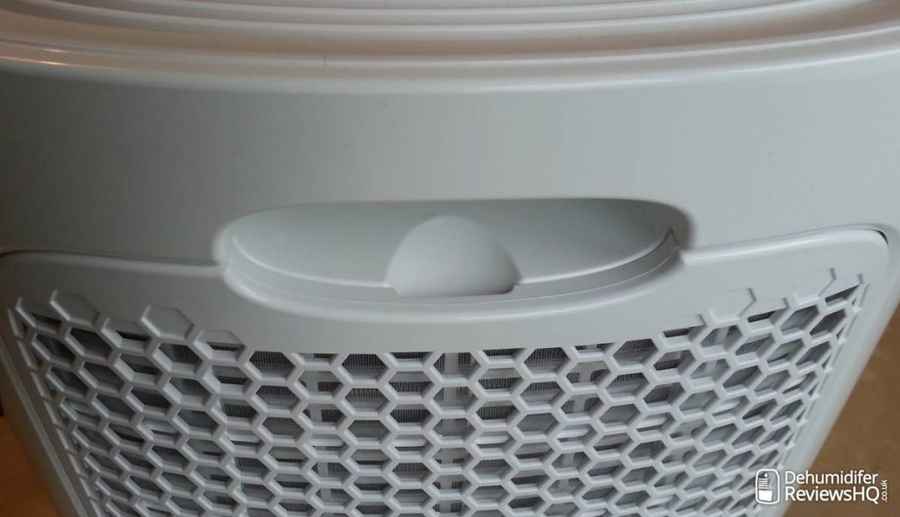 The MeacoDRY ABC 12L lacks castor wheels. It is important to take note of this if you plan on moving your unit between rooms and feel that the 10.5Kg weight might be heavy to lift.
However, for those who don't mind the weight, a recessed handle around the back allows you to lift the dehumidifier for moving between rooms. Although it is worth mentioning it is not the easiest way to carry a dehumidifier. And, if you've read any of our other reviews, you'll know that we find a folding carry handle a much better option.
If you want the feel of a wheeled dehumidifier along with the other features that MeacoDRY ABC has to offer, you can get the best of both worlds with a simple trick. Just stick some PTFE coated discs underneath the unit. These self-adhesive discs won't roll like actual wheels but they are quite slippery, making it easy to slide your dehumidifier across smooth surfaces instead of lifting it.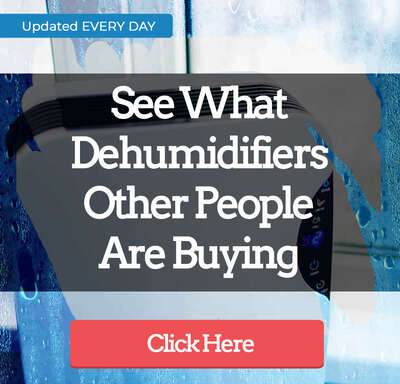 Airflow
Meaco has often gone with motorized louvred vents for many of their dehumidifiers. In contrast, the DRY ABC model is instead fitted with a grill for the air outlet found at the top.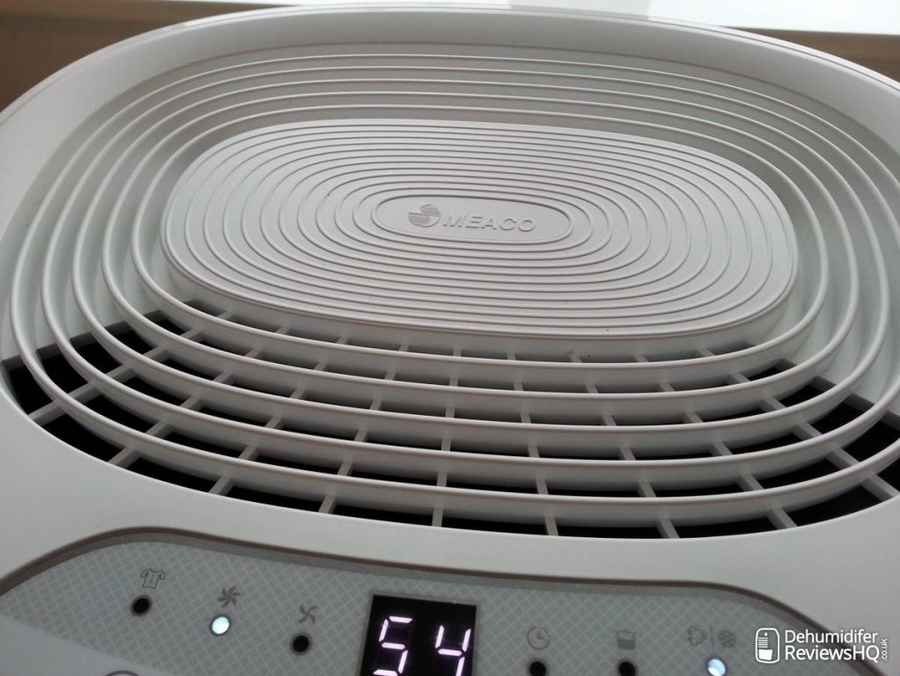 Despite the lack of a motorized louvre, air flows through this unit quite well. In fact, the ABC 12L can push out up 10 100m3/hr of air.
This is only 50m3/hr less than Meaco's much more powerful Zambezi running on its highest setting. It is also only 5m3/hr less if you were operating the Zambezi on its 2nd fan speed. Which would be its most common operating mode.
This is an indication of just how powerful the ABC is. You can feel the airflow exiting from the machine and this is always a good sign. Improved airflow helps dry and alleviate damp much quicker when compared to machines that simply suck in air but do not generate any exiting airflow.
Control Panel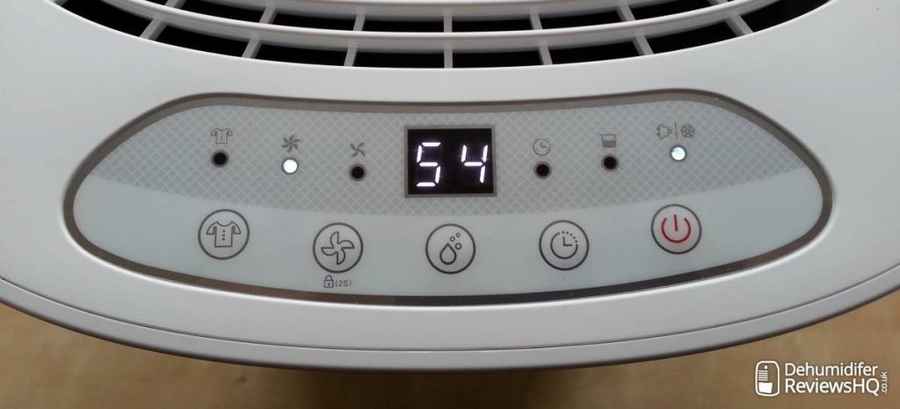 One design flaw that some users might notice is the position of the control panel, which appears upside down if you prefer to have the air inlet vent and water collection tank facing forward when using a dehumidifier.
The reason for this is that the latter two components are around the back of the machine. However, this is just a minor issue and it actually helps to enhance the dehumidifier's overall look by showcasing its sleek white front side.
The panel itself is very simple and consists of 5 blister buttons. Pressing each button once or repeatedly allows you to quickly configure this unit. For example, pressing the fan button once allows you to move to high fan speed. And, pressing it again, returns the ABC back to low speed.
Aesthetics & Build Quality
When it comes to aesthetics, the MeacoDRY ABC is not ugly to look at. Its curvy edges are pleasing to the eye and are a nice change from the drab straight sides found on most cuboids dehumidifiers. Buyers get the bonus of choosing from five different coloured tops as well. What's more, the digital control panel with LED display gives this appliance a nice modern look that won't look out of place in almost any home.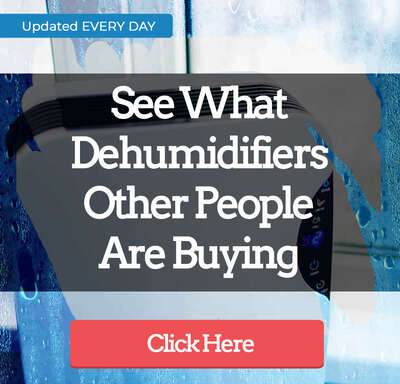 The case, as we would expect, is also very high quality. The plastic feels very robust and sturdy and the unit feels very 'solid'. The control panel is also very high-quality plastic and feels like it should last for many years. Nothing creaks or groans when lifting the appliance – as dehumidifiers on the cheaper end of the pricing spectrum sometimes can.
Water Extraction Rate
Whether you want to reduce condensation on walls and windows, get rid of a musty smell, improve air quality or dry laundry, the MeacoDRY ABC does it all. It is quite versatile for a 12L capacity dehumidifier. Note that the capacity describes how much water this unit can extract per day and should not be confused with its 2.6L tank.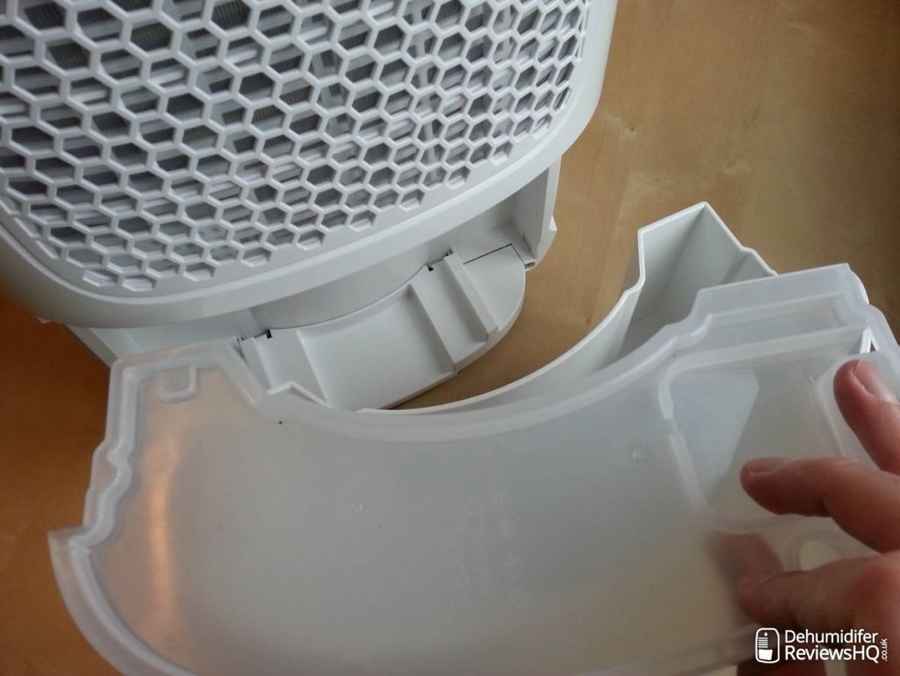 The tank may seem small compared to other models, but you won't need to empty it more than once a day when looking to simply improve air quality.
The reason for that is because from the average British home many dehumidifiers will only extract around 1.5-3.5 Litres of moisture per day (Based on 15-20°C and 60%RH). Except in conditions where a lot of moisture is produced – such as when cooking or bathing, for example.
So when the ABC has a maximum water extraction rating of 12L it will only be able to achieve this in the warmest and most humid of environments (30°C and 80%RH).
But this doesn't mean the ABC is lacking in power. It will more be more than powerful enough to deal with moderate to severe damp in a single room or keep the humidity down in homes of up to 3 bedrooms. We found it was able to reduce the humidity within a bathroom from 77%RH to 62% RH in just over 20 minutes. Which is very impressive for a unit of its size.
Quiet Operation
Meaco touts their ABC range of dehumidifiers as the quietest dehumidifiers they have ever sold, a claim that certainly lives up to the hype.
On the lower fan speeds, the MeacoDRY 12L ABC operates very quietly. In fact, is runs as low as 35dB. Which is only 1dB louder than the whisper quiet, and much smaller, ProBreeze 500ml.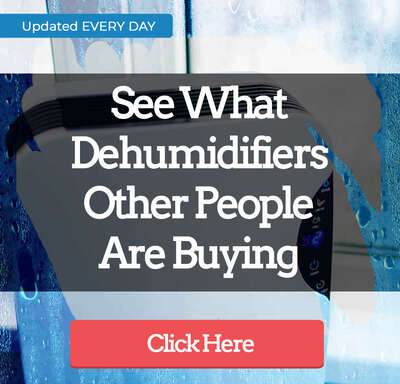 Even with the fan operating at full speed, there is hardly any obtrusive background noise. In fact, the maximum noise level only reaches around 40dB.
Laundry Mode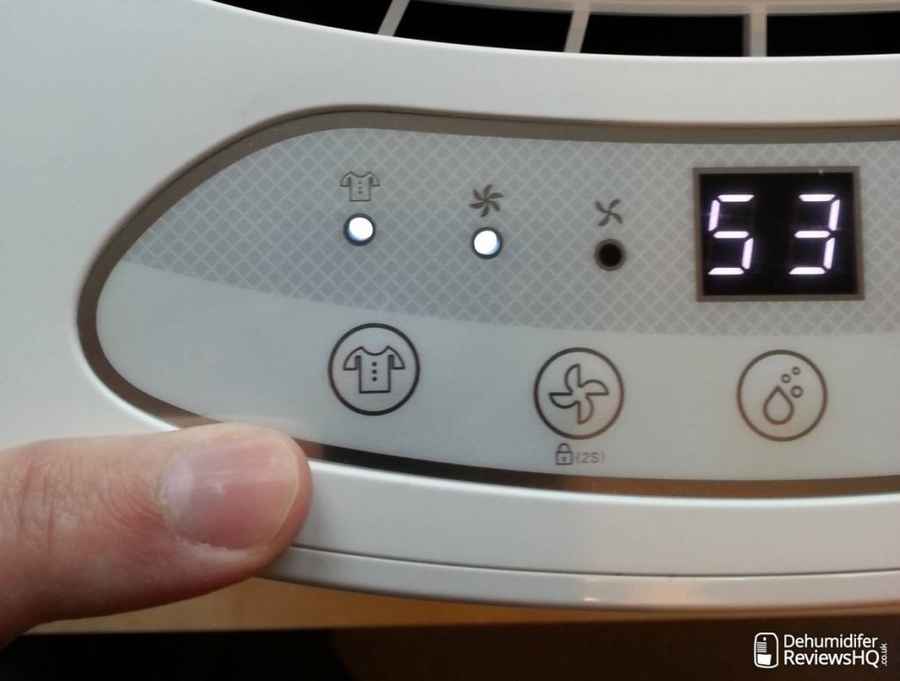 We would have been disappointed not to see a laundry mode on the ABC. It is almost a standard feature on many modern dehumidifiers. As such, we were pleased to see the ABC features such as setting.
When switched on it runs the fan at full speed for a period of 6 hours to help quickly dry washing without using a tumble dryer. This is a useful feature for buyers who don't have an outside space to dry laundry. It is also useful during rainy or cold days when it is not possible to dry your washing outdoors.
Emptying the MeacoDRY ABC 12L Dehumidifier
Emptying the collected moisture is something you will have to do on a semi-regular basis when operating a dehumidifier. So, it is important to invest in a model that makes this task easy.
To some extent, the MeacoDRY ABC delivers on this front thanks to its removable tank. Receding grooves on either side of the tank give you a good grip when sliding it out for emptying. However, with the tank located around the back, this calls for a bit of manoeuvring.
Another point to note is that the dehumidifier will not run if you place the tank incorrectly. The tank makes a clunk sound as you slot it back into place to confirm that it is well secured.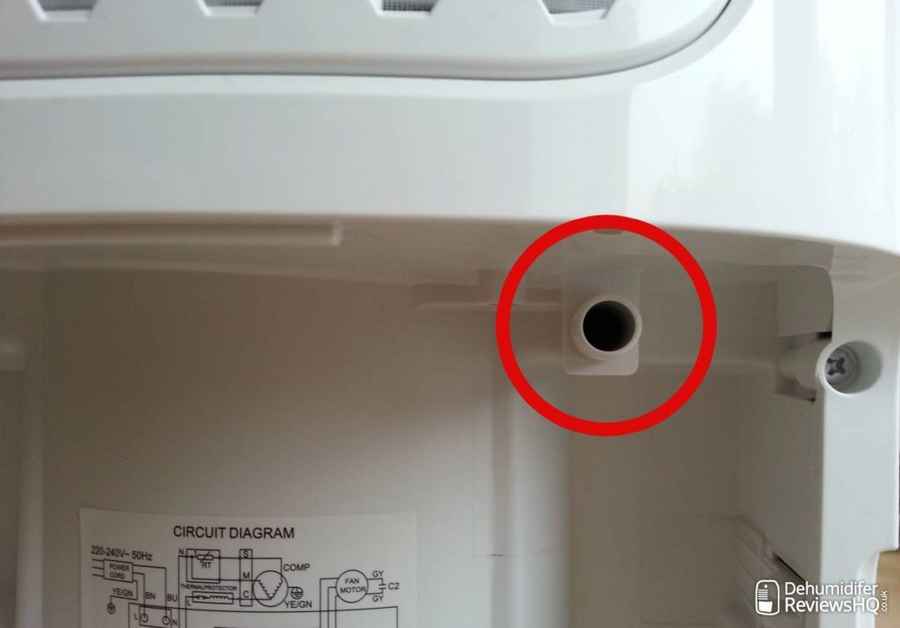 Although the MeacoDRY ABC does have a viewing window in its water tank, it has three features that eliminate the need for monitoring when to empty collected water.
Firstly, the unit will automatically shut off when the tank fills up to prevent overflows.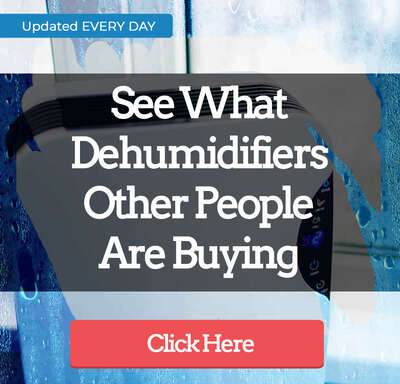 Secondly, there is a 'tank full' light that turns on to let you know when the tank needs emptying.
Lastly, you can leave this dehumidifier unattended by using its continuous drain spigot found just above the tank.
Keep in mind though that the MeacoDRY ABC 12L dehumidifier does not come with a drainage hose. Meaco cites this as a 'green move' aimed at reducing plastic waste in landfills, but it also means you will need to buy a drainage hose separately should you need one.
Other Features
As with most good dehumidifiers, the MeacoDRY comes with some useful extra features. Below are more details of some of the most notable functions that impressed us on the ABC.
1) Timer Function & Continuous Operation
Remembering to turn off appliances when they are not needed is not always easy to remember. Plus having a dehumidifier run continuously is not very energy efficient because it could be running when it is not needed.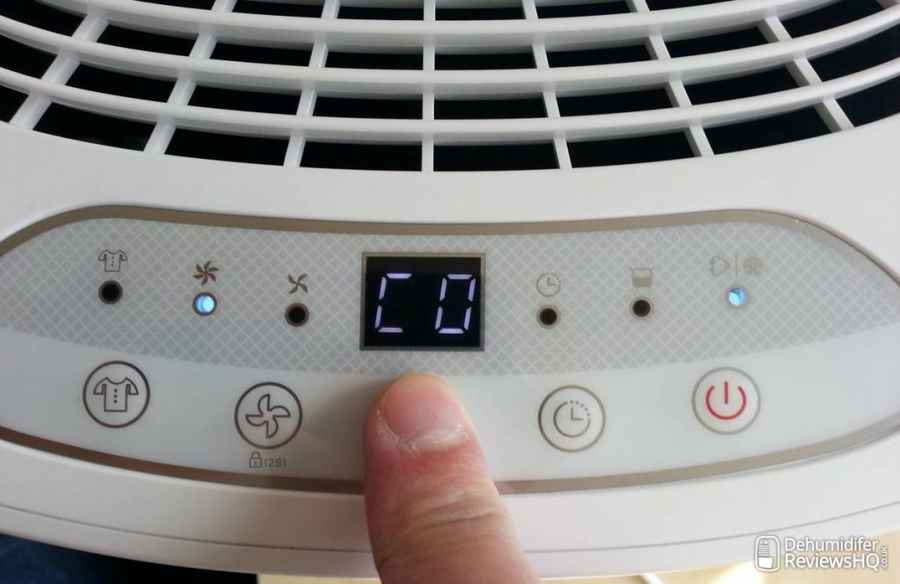 To help make provide more control over the running timer of the ABC it will switch itself off automatically when you use the timer function. This facility lets you set a limited period during which the dehumidifier will operate. You can adjust runtime to as low as one hour or all the way up to 24-hours in 1-hour increments.
However, if you want to keep the dehumidifier running continuously, simply press the humidistat button once after it reaches the highest setting of 80%. The screen will read 'CO', indicating that the dehumidifier is set to run in continuous mode.
2) Automatic Defrost Function
Compressor dehumidifiers often don't perform well in cold environments. In fact, when the temperature drops to around the 10-15°C mark, and below, the performance of these appliances can drop considerably.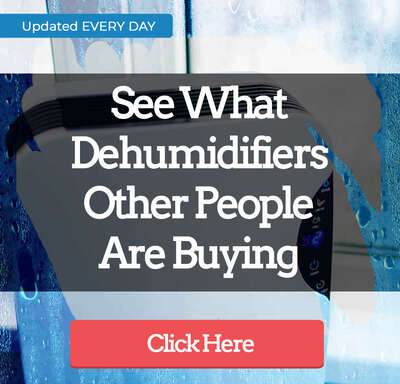 However, the 12L MeacoDRY features an auto-defrost function to combat this problem. Auto-defrost detects when the compressor coils are about to freeze and stops the dehumidifier temporarily until it is safe to resume operation.
Using this function the MeacoDRY will keep functioning in conditions as low as 5 degrees Celsius, which is quite impressive for a refrigerant model. However, even with this functionality, a desiccant dehumidifier will always outperform a refrigerant model in such low-temperature ranges.
3) Child Lock Safety Feature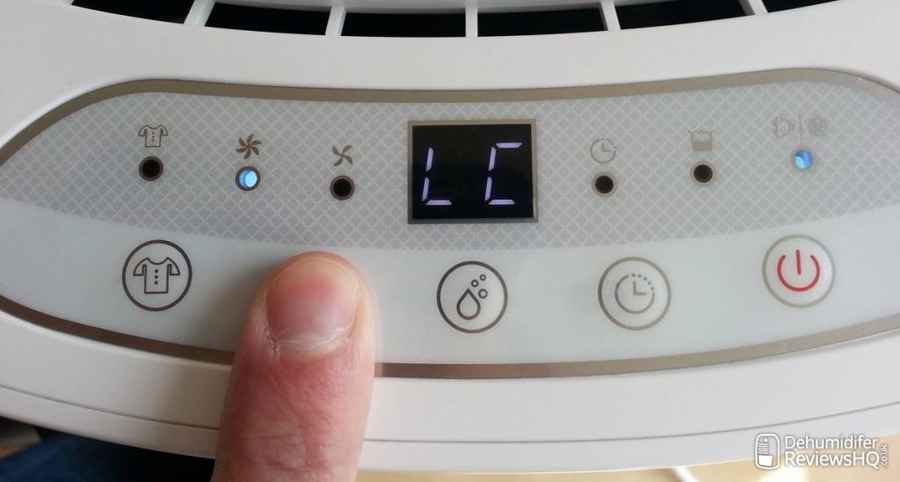 The child lock function is a welcome extra feature that will come in handy for parents who have children running around the house. As the name implies, this feature will prevent little curious fingers from 'accidentally' changing the settings on your dehumidifier.
Activating it simply requires holding down the fan button for a few seconds. You will know it is active when the display shows the characters 'LC'. To unset the lock simply repeat this process again.
Other than ultra quiet operation, low energy consumption is the other big selling point of the ABC range of dehumidifiers from Meaco. The MeacoDRY only uses 160 Watts of power. Compared to desiccant models, this is quite low power consumption. As a result, you can run it for long hours without incurring high energy bills. In fact, the ABC can operate for as little as 2.45p/hour (based on 15.2p/kWh).
Another energy saving feature worth mentioning is the auto-shutoff function. Once the dehumidifier reaches the target relative humidity you have set, it will turn off and go into standby mode to cut back on unnecessary power usage.
On occasion, the fan will start to spin again. This allows the humidistat to test for changes in humidity and start the compressor if needed. This is what Meaco refers to as it's Control Logic functionality and is common to all of their recent dehumidifiers.
5) Intuitive Control Panel
There is nothing complicated with the MeacoDRY 12L dehumidifier when it comes to operating it. Its intuitive digital control panel is quite easy to figure out.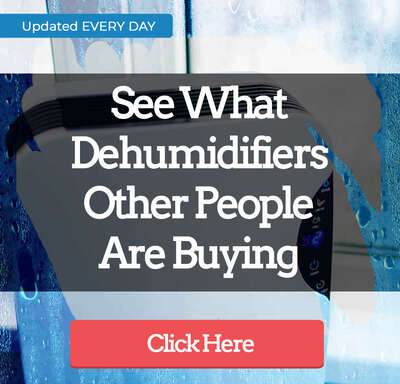 However, make sure to read the user manual that comes with the appliance. It not only explains which buttons control the different functions but also has a useful troubleshooting guide.
In a nutshell, you will interact with a range of five buttons only. These include the on/off, timer setting, humidistat, fan speed, and laundry mode functions, all of which have an indicator light and picture icon that hints at what each button does.
The beauty of the control panel is that it has a backlit display and LED indicators. So, even if you have to set the dehumidifier in a dark room, it will be quite easy to see what it is doing.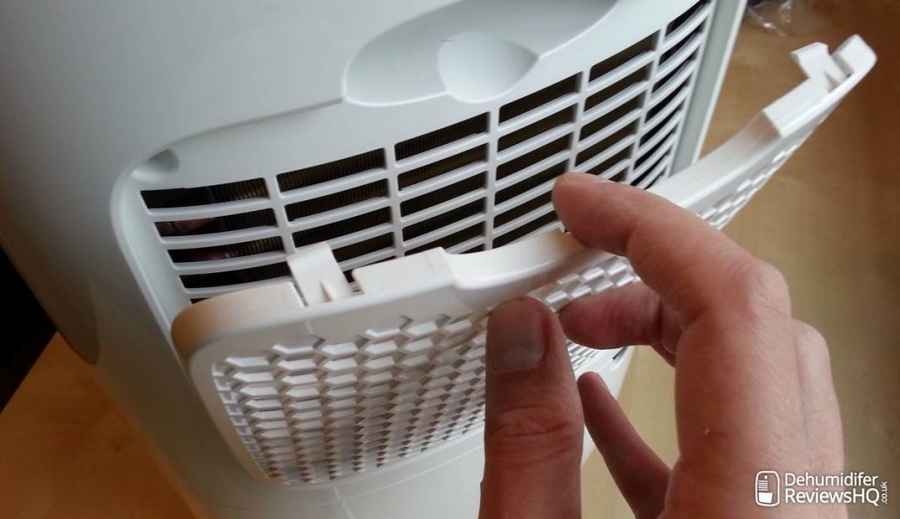 Like all dehumidifiers, the MeacoDRY filters the air that passes through the unit to prevent dust from clogging up internal components. The filter on this model is on the back side just on top of the air inlet. It is easily removable for cleaning, and there is no need to buy replacement filters for this unit.
Meaco recommends cleaning the filter every two weeks. It is crucial not to allow dust buildup on the filter. Doing so not only cause the dehumidifier to collect insufficient moisture but also increases energy consumption and reduces the dehumidifier's lifespan because it works harder than required to draw air into the unit.
7) Flexible Target Humidity Threshold
As far as humidity levels are concerned, this model lets you set RH between 30 and 80 percent. You can adjust settings in 5% steps at the press of a button. Current relative humidity of a room will display on the screen as the dehumidifier runs.
This is nice to see and is our preferred way of setting the target RH.
Customer Impressions and Reviews
Meaco has a good reputation for designing quality dehumidifiers. And, if customer reviews are anything to go by, the MeacoDRY ABC 12L model is an overall good buy.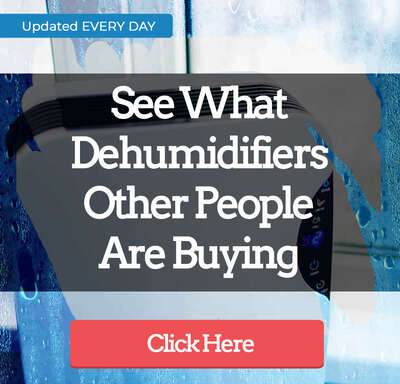 Besides being quiet and efficient, many customers are pleased with the fact that this model is cheap to run, works really well and offers value for money.
And we would have to agree with these opinions. In the ABC Meaco have managed to make an affordable and efficient dehumidifier that impressed us not only with its performance but also the overall quality of the unit.
Pros
Powerful performance for a small unit
Cons
Continuous drainage hose sold separately
Does not have castor wheels
Conclusion
While the MeacoDRY ABC 12L dehumidifier may have a few shortcomings, it is one of the best performing compact units we have come across.
It is effective, runs quietly and helps you save on your energy usage. Meaco have delivered on their promise of designing one of the quietest dehumidifiers they have ever made and, to our knowledge, is only outperformed in this regard by a much smaller Peltier unit (the 500ml by ProBreeze).
The MeacoDRY 12L comes with a decent array of features and settings and is a great buy for anyone who would like to quality and power of a Meaco dehumidifier without splashing out on one of their, more costly, Platinum range.
Prices & information last updated on 2023-11-29