There was time, in the not so distant past, that the idea of using a dehumidifier in your bedroom was virtually unthinkable. Dehumidifiers have a reputation of being large and noisy making them less than ideal appliances for the bedroom.
However, the dehumidifier market has undergone something of a technical revolution over the past 5 years. And, even though you can still buy large, high powered units, many dehumidifiers are getting more compact and quieter to meet the increasing demand for such units in the domestic market.
In this guide, we'll show you what to look for when choosing a dehumidifier for your bedroom and answer the most common questions people have when buying one. Let's dive right in…
How Will a Dehumidifier Help In My Bedroom?
1) Removes and prevents condensation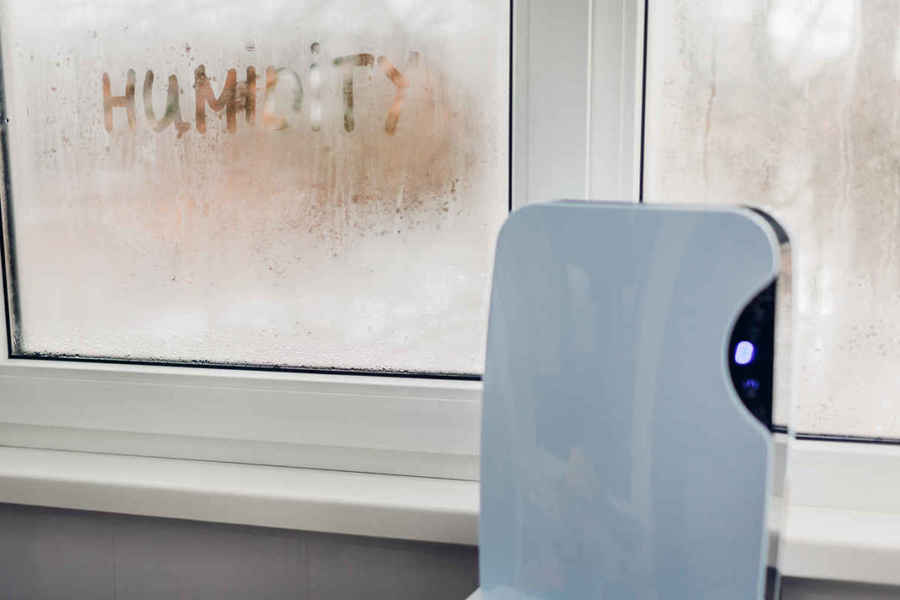 A common problem here in the UK is condensation laden windows during the winter months. This problem is exacerbated on single glazed windows, aluminium framed windows and older double glazed units where thermal efficiency is much lower.
Part of the reason this condensation forms is because, during the night, we release moisture into the air simply by breathing, and even sweating, as we sleep. In fact, we exhale up to 300 – 500 millilitres of water every day and can sweat out up to 1 litre of water each night (depending on the temperature of course).
Usually, the warm air within our homes holds a certain amount of this water. But, because the air is cooler overnight, it cannot retain as much moisture. As such, it is released easily on cold surfaces such as window pains where it deposits as condensation. A dehumidifier will help remove this excess moisture as it is created, preventing this from happening.
Many dehumidifiers also feature an internal hygrometer and automatic control system. The hygrometer monitors the ambient humidity and if it becomes too high the control system automatically turns on the dehumidifier until the humidity has been lowered before switching itself off again.
This level of automation means a dehumidifier can tackle condensation virtually automatically whilst remaining as energy efficient as possible because it will only run when required.
2) Prevents mould growing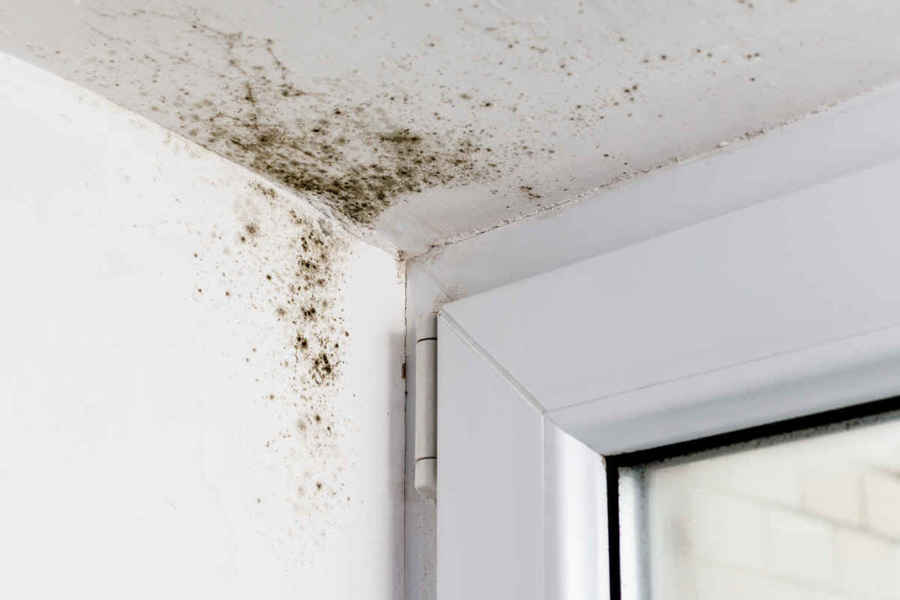 Mould and bacteria thrive in the damp conditions that condensation provides. Two of the most persistent moulds that like to grow in the sealant and walls around our windows is Ulocladium or Alternaria. These moulds appear as black slimy or furry splodges that are unsightly and tricky to remove, often staining paintwork and silicone.
Despite being an eye-sore mould and bacteria growth also have some more serious implications. Mould releases spores into the air that, when inhaled, causes our immune system to overreact.
It can cause a variety of symptoms from itchy eyes, to coughing and even induce breathing difficulties such as shortness of breath or wheezing. And, since we spend 8 hours in our bedrooms every night, it is important to ensure the air we breath is clean.
A dehumidifier will prevent this problem by making sure the humidity is not high enough for mould or bacteria to breed and any damp spots and condensation are eliminated.
It is important to note that a dehumidifier will not kill or remove existing mould. This will need removing using a decent mould cleaner such as HG's mould spray.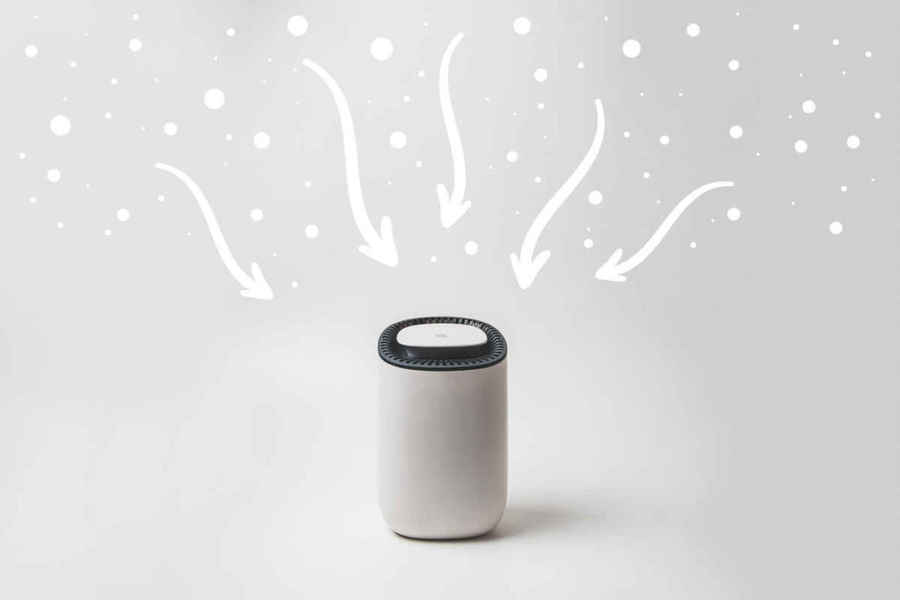 Many dehumidifiers act as multifunction devices and come complete with a variety of filters or ionizers to help clean the air in your home.
Some are furnished with a basic dust filter however an increasing number feature anti-bacterial, silver ion filters or charcoal filters. These kinds of filters either kill mould spores and bacteria on contact (silver ion) or filter exceptionally small particles of dust from the air and help absorb the odours damp conditions produce (charcoal filters).
The air expelled from dehumidifiers is typically around 3°C to 6°C warmer than the ambient room temperature. Over time this raises the temperature of the room they are operating within. And, as we know, warmer air helps prevent condensation and damp patches.
Additionally, this will help keep your bedroom nice and warm when it's cold. If this added bonus appeals to you, we recommend buying a dehumidifier that utilises Desiccant technology, since these use a mini heating system to help remove water from the air. As such, they expel much warmer air than dehumidifiers that utilise refrigerant or Peltier technology.
Bestselling Dehumidifiers For The Bedroom
Prices & information last updated on 2023-11-29
How To Choose a Dehumidifier For Your Bedroom: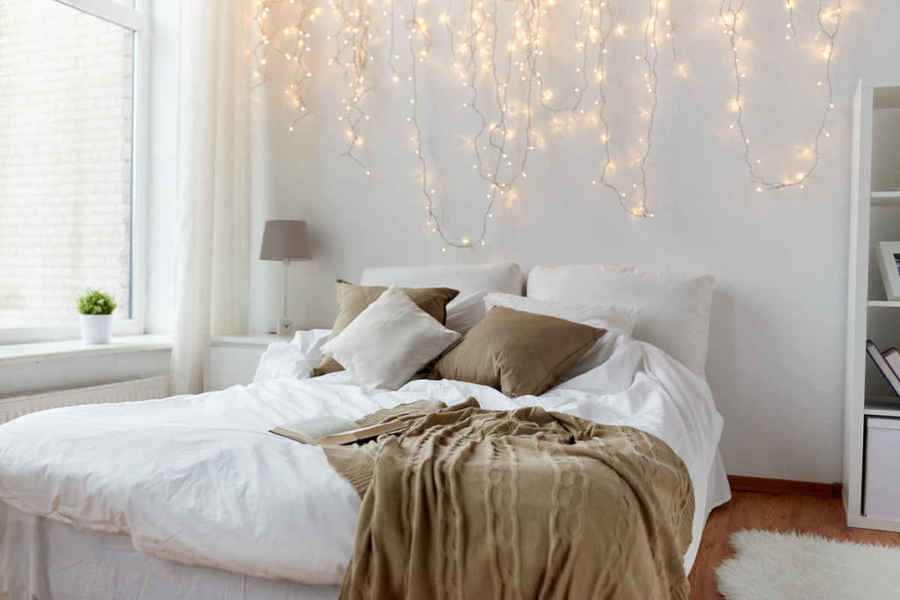 Choosing a dehumidifier for the bedroom involves slightly different criteria than we would recommend when choosing one for damp problems across the home. The top 3 things we think you should consider are:
Noise level
When it comes to buying a dehumidifier for your bedroom operating noise should be one of your top concerns – especially if you want it to run overnight whilst you are sleeping.
Dehumidifiers are definitely getting quieter. However, despite some carefully worded marketing by some manufacturers, they are not silent. Typically a dehumidifier will produce anywhere from 33dB of noise (equivalent to people whispering) up to 40dB – 50dB of noise (equivalent to normal conversation).
Generally speaking, dehumidifiers that utilise desiccant or Peltier technology are the quietest. Units such as the Peltier driven ProBreeze 500ml produce only 33dB of noise. Whilst more powerful desiccant units such as the Zambezi or EcoAir DD122 Simple produce just 34dB of noise.
Usually, we would advise against buying a refrigerant-based dehumidifier for the bedroom since these are typically quite noisy. However recent innovations by UK based company Meaco have bucked this trend. One of their latest models the MeacoDRY ABC is a refrigerant-based dehumidifier that produces only 35dB of noise, making it as quiet as many desiccant models.
Size
When it comes to dehumidifiers there are two kinds of sizes you should be aware of. The first is obviously physical size. You don't want to trip over a large unit on your way to the toilet in the middle of the night. And, the second is capacity.
Capacity needs a little more consideration. Especially since it refers to the amount of water the dehumidifier can extract over 24 hours AND the amount of water it can hold before it needs emptying.
For many homes, we'd recommend dehumidifiers quoted at extracting 8 – 12L of water over 24 hours because they provide enough power to tackle condensation, damp patches and keep a check on humidity whilst still being economical to run.
TIP! Many dehumidifier manufacturers quote extraction rates well over what is possible in the UK climate. So even though 8 – 12L might seem like a lot of water it is unlikely you'll ever extract this amount in one day. This is because manufacturers test their dehumidifiers in virtually tropical conditions in order to get the best water extraction rate possible. Often being tested in 80% RH and 30° which represent a combination of humidity and temperature conditions rarely found in the UK.
Unless your home has a severe damp problem, the extra capacity higher-powered units offer would be lost. Unless of course, you wanted to take advantage of the specialist features some of these units provide. For example; 20L Dehumidryer features a high-powered laundry dry mode to dry washing indoors cheaply and quickly.
As for the amount of water a dehumidifier can store between empties; we'd recommend a tank size of around 2 litres and above. This is adequate enough to ensure that you won't need to empty your dehumidifier every day and you can leave it to work unattended for several days in a row.
Consider additional features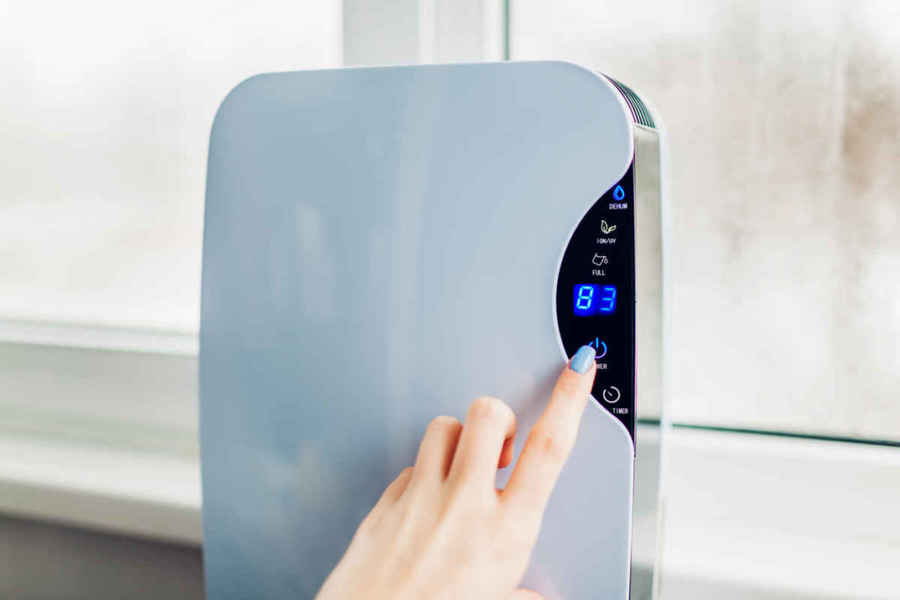 More and more dehumidifiers benefit from a range of useful features and functions that increase their versatility and can help make their operation virtually hands-free – even when used solely in the bedroom.
Useful features that we think are worth looking out for include:
Whilst not being directly tied to curing condensation in your bedroom the laundry function is useful all the same. Especially since they help prevent the problems associated with drying washing indoors during the autumn and winter – such as condensation on walls and windows.
This feature is often sought after by people looking for a dehumidifier since dehumidifiers generally dry washing far more cheaply when compared to using a tumble dryer.
The type of control logic a dehumidifier features does vary by name from manufacturer to manufacturer. For example; Meaco dehumidifiers feature 'Meaco Control Logic'. Whereas EcoAir dehumidifiers use 'E7 Technology'.
Despite the name differences, the basic principle remains the same. A dehumidifier using control logic will operate until a target humidity threshold has been met. It will then switch itself off and periodically sample the air to detect if the humidity has increased. If the humidity has increased it will automatically switch itself on until the humidity has been lowered and then go back to sleep.
This method of operation ensures your dehumidifier will only operate when it is needed and reduces its energy consumption considerably.
Using a timer provides precise control over how long your dehumidifier will operate each day. Usually set in 1-hour increments many dehumidifiers allow you to set from 1 – 4 hour operation times up to 1 – 12 hours.
This setting is commonly used when homes are empty during the day or when people are asleep overnight to ensure the dehumidifier does not run for longer than is required. It is a more basic version of Control Logic but good for those who want exact control.
4) Antibacterial filter and/or Ioniser
We touched on filters earlier in this guide. We recommended choosing a dehumidifier with anti-bacterial filters because of their ability to remove the nasties released by mould into the air you breathe.
However, another feature that is worth looking for, though admittedly rarer, is an ioniser. Ionisers release hydrogen and oxygen ions into the air. These bond with dust and dirt and makes them too heavy to stay airborne. They drop to the floor and will be vacuumed up when you do your housework. The end result is cleaner, healthier air within your home.
Conclusion
Choosing a dehumidifier for your bedroom requires a slight shift in perspective compared to choosing a dehumidifier for your home.
Remember to choose a dehumidifier that produces a noise level you are comfortable with, whilst being sufficiently power enough to deal with your condensation or damp problem within your bedroom. Any additional benefits, such as Ionizer or Antibacterial features are great, but are just that additional benefits and should not be a deal-breaker/maker.
Bestselling Dehumidifiers For The Bedroom
Prices & information last updated on 2023-11-29