The combination of high humidity and poor air circulation in small spaces creates the perfect environment for moisture to accumulate to troublesome levels. Luckily, with a small dehumidifier, you can effectively deal with excessive humidity, musty odours, and mould growth in your small living spaces.
These compact and efficient devices are tailor-made to tackle moisture-related issues in smaller areas such as living rooms, cupboards, bedrooms, and offices.
Whether you live in a cosy studio apartment, have limited space in your home, or want to improve the air quality in your bedroom, a small dehumidifier will work wonders in creating a comfortable and healthier environment.
In this guide, we will explore the key benefits of owning a small dehumidifier and offer essential tips on choosing the perfect one for your distinct needs. Prepare to bid farewell to dampness and welcome a fresh and invigorating atmosphere into your small spaces.
What Is A Small Dehumidifier?
How Does It Work?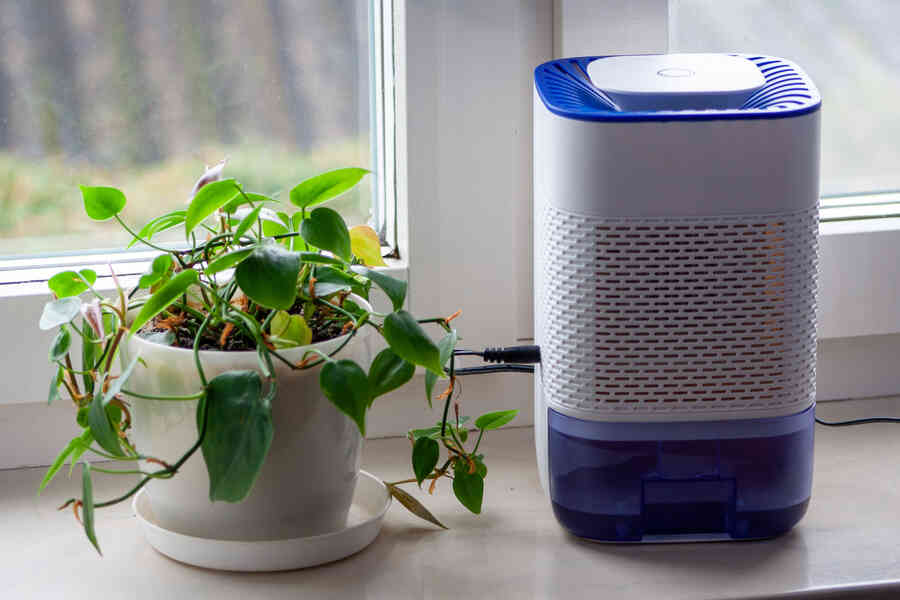 A small dehumidifier is a device that removes excess moisture from the air in an enclosed space. It works by drawing in moist air through a vent and passing it over a cooling element that collects the moisture. The collected water is stored in a tank or drained through a hose.
There are two main types of compact dehumidifiers, namely desiccant and refrigerant. They perform the same functions but differ slightly in how they work.
Desiccant dehumidifiers use a moisture-absorbing material, such as zeolite or activated carbon, to extract water content from humid air. On the other hand, refrigerant dehumidifiers use a compressor and a coolant to chill the air. Moisture is then able to condense on a cold surface inside the appliance.
What Are The Benefits Of Compact Dehumidifiers?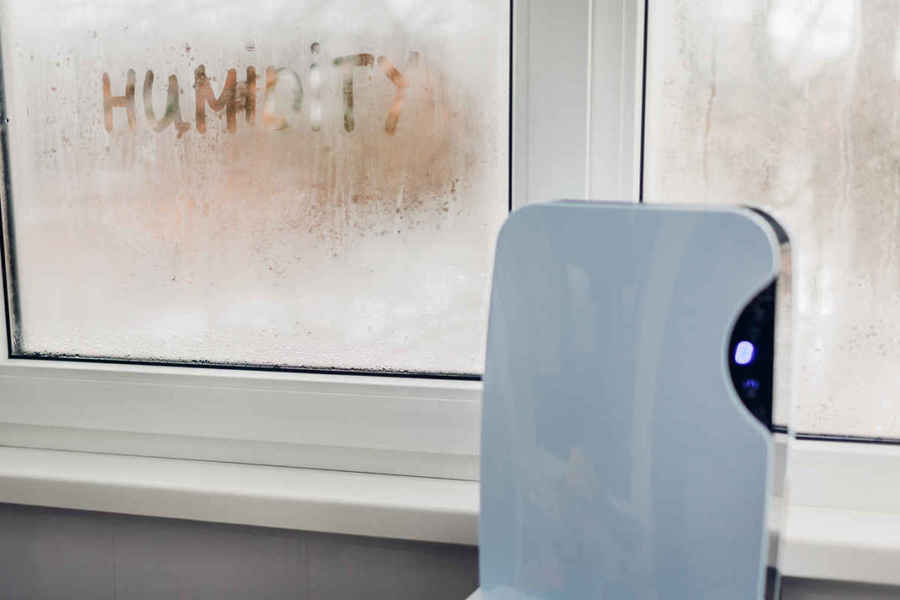 Most people often wonder if compact dehumidifiers are worth it. From a functional standpoint, these mini devices are undoubtedly a great choice if you are battling damp problems. They may be tiny but come equipped with efficient moisture control capabilities.
Even with a compact-sized dehumidifier, you should be able to:
Prevent Mould and Mildew: Excess moisture in the air can trigger the growth of mould and mildew, which can damage walls, furniture, and clothing and trigger allergies and respiratory problems. A small dehumidifier helps to reduce this risk.
Reduce Odours: Damp air can cause musty and unpleasant smells in enclosed spaces. A small dehumidifier can help to eliminate these odours by removing excess moisture from the air.
Protect your Possessions: High humidity levels can cause damage to electronic equipment, books, soft furnishings, and other valuable or sentimental possessions. By controlling the humidity, a small dehumidifier can help to protect these items.
Improve Air Quality: Removing excess moisture from the air can also help to improve overall air quality in a room, making it more comfortable and healthy to breathe.
Additionally, small dehumidifiers come with a few extra benefits of their own.
Energy Efficient: Small dehumidifiers typically use less energy than larger models, making them a cost-effective solution for managing humidity in small spaces.
Affordable: If you are tight on cash, a small dehumidifier is the way to go. The energy-efficient design of these models translates into cost savings over time through reduced energy consumption. Furthermore, small dehumidifiers usually have a much lower price tag than large units, making them an all-around affordable option.
Portable: Another key benefit of small dehumidifiers is their compact size. Their smaller footprint means they can fit just about anywhere, including tiny spaces such as cupboards, while their small-scale build makes for easy transportation and portability.
Quiet Operation: By design, many small dehumidifiers operate quietly, ensuring minimal disruption to your daily activities or sleep. This silent operation makes them particularly useful where one desires a peaceful, quiet moisture-free environment.
In a nutshell, small dehumidifiers work similarly to the larger models. However, they have the added benefit of a design that fits perfectly in tight spaces. They, therefore, make a practical appliance for small rooms and areas where bigger units may not be feasible.
Factors To Consider When Choosing A Small Dehumidifier
Buying a small dehumidifier can help ensure the air in your home is dry and comfortable, but choosing the right one can be overwhelming. Here are some crucial factors to consider:
The square footage of the room where you plan to use the dehumidifier is crucial. If the dehumidifier is too small, it will not be able to remove enough moisture from the air. On the other hand, if it is too big, the dehumidifier will be too powerful for your needs and could even make the room too dry.
As a general rule of thumb, aim for a dehumidifier capable of removing the appropriate amount of moisture from your space daily. For rooms up to 150 sq. ft., a dehumidifier with a 500ml-700ml water tank capacity is sufficient for average humidity levels.
The water tank capacity of the dehumidifier will determine how often you need to empty it. The larger the tank, the less frequently it will need emptying. However, it is imperative that you find a balance between a large water tank and the size of the dehumidifier. While a larger water tank allows you to run the dehumidifier for longer, it will make the unit bigger and trickier to move around.
3) Power Consumption And Efficiency
While compact dehumidifiers naturally consume little energy, you should still compare the energy efficiency of several models. A more energy-efficient model will not only save you money on your energy bills, but it will also reduce your carbon footprint.
Some dehumidifiers can be louder than others, so it is wise to consider the noise level when choosing a model. If the intended location for a dehumidifier is a bedroom or other living area, you will want to go for a quieter model. Look for dehumidifiers with a decibel rating of 60 dB or lower, which is the standard for indoor appliances.
If you plan to move your dehumidifier around your home or take it on trips, a lightweight and portable model is a good pick. Look for models with castor wheels or handles, as they will make it easy to move the unit around. Remember, the larger the water tank, or the more power it demands, the heavier it is likely to be, so consider the trade-offs before making a final decision.
Finally, you will need to consider the price of the dehumidifier. Dehumidifiers can range from as little as £25 to several hundred pounds on the high side. While it is tempting to opt for the cheapest model, remember that you may end up paying more for it in the long run if it is not energy-efficient or does a poor job of removing moisture from the air. As with any purchase, you should aim for a model that offers good value for money.
Types Of Small Dehumidifiers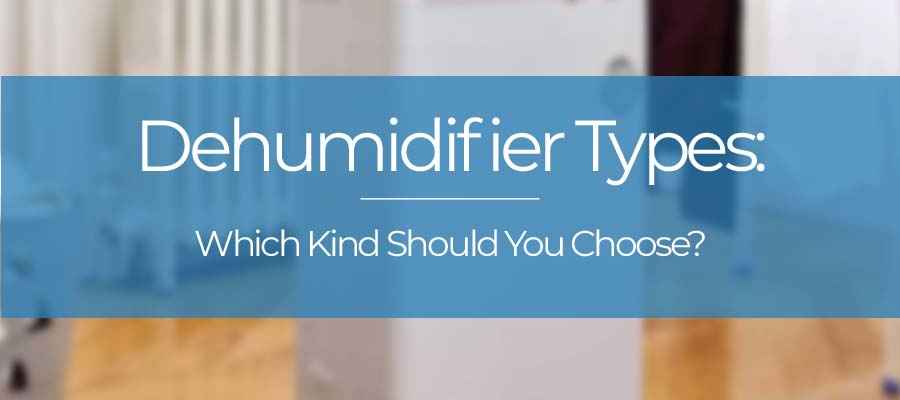 Desiccant Dehumidifiers
Desiccant dehumidifiers use a desiccant material, typically silica gel, to absorb moisture from the air. They are often more expensive than refrigerant dehumidifiers but operate more effectively at low temperatures or in areas with low humidity. Desiccant dehumidifiers do not require a compressor, so they are quieter and use less electricity than refrigerant dehumidifiers.
Desiccant dehumidifiers are an ideal option for small spaces such as caravans, boats, and garages or in areas where noise is a concern, such as bedrooms or living rooms. They are also suitable for low-temperature environments such as cellars and garages.
Refrigerant Dehumidifiers
Refrigerant dehumidifiers made for small spaces function by condensing moist air to remove excess moisture. The dehumidifier pulls moisture-filled air over a cooled coil, which causes the moisture to condense and collect in a water tank or tray. Refrigerant dehumidifiers are generally less expensive than desiccant models, but they operate less effectively at low temperatures or in areas of low humidity.
Refrigerant dehumidifiers are ideal for spaces at room temperature. They're designed to work effectively at 15°C and above and are thus suitable for most areas in the UK.
Some Of The Best Selling Small Dehumidifiers
Small dehumidifiers are great for tackling damp rooms, improving air quality and reducing allergens. Here are some of the top small dehumidifiers on the market:
Prices & information last updated on 2023-11-29
Tips For Using Small Dehumidifiers
Placement
The position you place your small dehumidifier matters a lot, as it can enhance or reduce its effectiveness. Ideally, you should set your unit in a central location, nearest to the area where moisture or dampness is highest. For example, you can place the dehumidifier near the shower or bathtub in a bathroom, while the perfect spot for the living room can be near any damp corners or walls.
It is also essential to permit enough space around the dehumidifier to achieve adequate airflow. Dehumidifiers have intake vents that suck in damp air and exhaust vents that hiss out dry air. Whenever any of these vents are blocked, by either furniture or a wall, the functionality of a unit will suffer greatly.
Cleaning And Maintenance
Small dehumidifiers require regular cleaning and maintenance to ensure they function efficiently and last longer. The first step is to clean the air filter regularly to prevent it from clogging with dust and other particles. The frequency of cleaning depends on the usage and environment, but it is advisable to clean it once every fortnight or month.
Another essential maintenance tip is to empty the water tank before it fills up, as leaving it full can cause the dehumidifier to stop functioning and even cause water damage around the unit. Additionally, it is essential to wipe the exterior and interior of a dehumidifier with a clean, damp cloth to keep it free of dust and debris.
Continuous Drainage
Continuous drainage is an alternative to manually emptying the water tank and is particularly useful in areas with high humidity levels. Some dehumidifiers come with a hose connection that allows the unit to drain continuously into a sink or drain point, eliminating the need to empty the water tank manually.
Before using the continuous drainage option, ensure that the drain point is lower than the dehumidifier's water tank and that the hose is connected securely to the unit. Doing so will prevent leaks and ensure that the water flows freely.
FAQs About Small Dehumidifiers
1) How Long Should I Run My Dehumidifier?
The length of time you should run your small dehumidifier depends on the humidity level in your home and the capacity of your dehumidifier. If your home is in a highly humid area, the recommendation is to run your unit for at least six to twelve hours daily to maintain healthy indoor humidity levels. Most small dehumidifiers have a built-in humidistat that automatically shuts off the unit upon reaching the desired humidity level.
2) Can A Dehumidifier Cause Dampness?
No, a dehumidifier does not cause dampness in the home. On the contrary, a dehumidifier helps prevent damp in living quarters by removing excess moisture from the air. Moist conditions result from various factors, including poor ventilation, leaky pipes, or rising damp.
If left unchecked, dampness can lead to mould growth, which is hazardous to your health. A dehumidifier can help to prevent the build-up of moisture that leads to wetness and mould growth.
3) Do I Need To Leave Windows Open While Using A Dehumidifier?
No, you do not need to open windows when using a dehumidifier. If anything, leaving windows open can bring in more moisture from outside. It is best to keep windows and doors closed while running your dehumidifier to prevent more humid air from coming in.
However, you have to ensure that your home has adequate ventilation. Opening windows and doors to moisture-prone areas of your home for a few hours a day will let in fresh air and help to improve circulation.
4) Can A Dehumidifier Help With Allergies?
Yes, a dehumidifier can help to reduce allergens in the home. Dust mites, mould, and mildew thrive in moist environments. By reducing humidity levels in a space, a dehumidifier can help prevent the growth of these allergens. That said, a dehumidifier is not a replacement for regular cleaning and maintenance. Cleaning surfaces regularly and vacuuming your home is still necessary to keep allergens at bay.
Conclusion
In conclusion, investing in a small dehumidifier can be a game-changer for your small living spaces. By effectively reducing excess moisture, these compact devices help combat all the pitfalls of high humidity. With their portability and versatility, small dehumidifiers ensure you can enjoy a fresher and healthier environment wherever you need it most, all while protecting your home and belongings from moisture damage.
As you shop for a small dehumidifier, avoid making an emotional or impulsive purchase. Instead, mull over each unit's size, capacity, power consumption, noise level, portability, price tag, and any available extra features. Take the time to carefully consider your needs and preferences, read customer reviews, and compare prices and features, to ensure the perfect fit for you.
Best Selling Small Dehumidifiers
Prices & information last updated on 2023-11-29