HG Mould Spray is one of the best mould removers available today. Despite its deceptively bland packaging, this mould spray packs a real punch. It can quickly clear mould from even the most stubborn of surfaces.
The secret behind this powerful cleaning power comes from two main ingredients: sodium hypochlorite and sodium hydroxide.
The first being a liquid bleach that has been in common use since the 18th century. The latter is a caustic cleaning compound that has the power to dissolve organic protein, oil, grease and even fat.
Combined these two chemicals not only kill mould and mildew but effectively remove it from surfaces too.
Within the ingredients is also an additive to help prevent re-growth. This is particularly useful if your home suffers from damp or condensation because it means you won't need to clean away mould and mildew as often.
Key Product Information
Preview

Title
HG Mould Spray, Effective Mould Spray & Mildew Cleaner, Removes Mouldy Stains From Walls, Tiles, Silicone Seals & More - 500ml
Helps prevent mould regrowth
Pros?
Works quickly, Simple application
Preview

Title
HG Mould Spray, Effective Mould Spray & Mildew Cleaner, Removes Mouldy Stains From Walls, Tiles, Silicone Seals & More - 500ml
Helps prevent mould regrowth
Pros?
Works quickly, Simple application
Prices & information last updated on 2023-11-30
HG Mould Spray Usage Tips:
The first thing you'll notice when using this spray is that this does produce a pungent chemical odour. It is reminiscent of the chlorine smell found at swimming pools.
If you're using a lot of this spray the fumes can be a little overwhelming. We always recommend opening a window to allow the smell to disperse.
Secondly, we would recommend wearing gloves whilst you use this. Remember, Sodium hydroxide is caustic and it will sting your skin – especially if it is cut or cracked. The smell this spray produces will also 'cling' to your skin, so again, gloves will help with this.
3: Do Not Leave It Applied Longer Than Recommended
Finally, remember the keep an eye on it. If left too long on paintwork we've found it can cause it to become slightly discoloured. This paint does return to its normal colour eventually, but the least damage you do to your paintwork the better. Especially if particular areas of your home suffer from persistent damp and regular treatment is required.
HG Mould Spray In Action (Our Test Results With Photos)…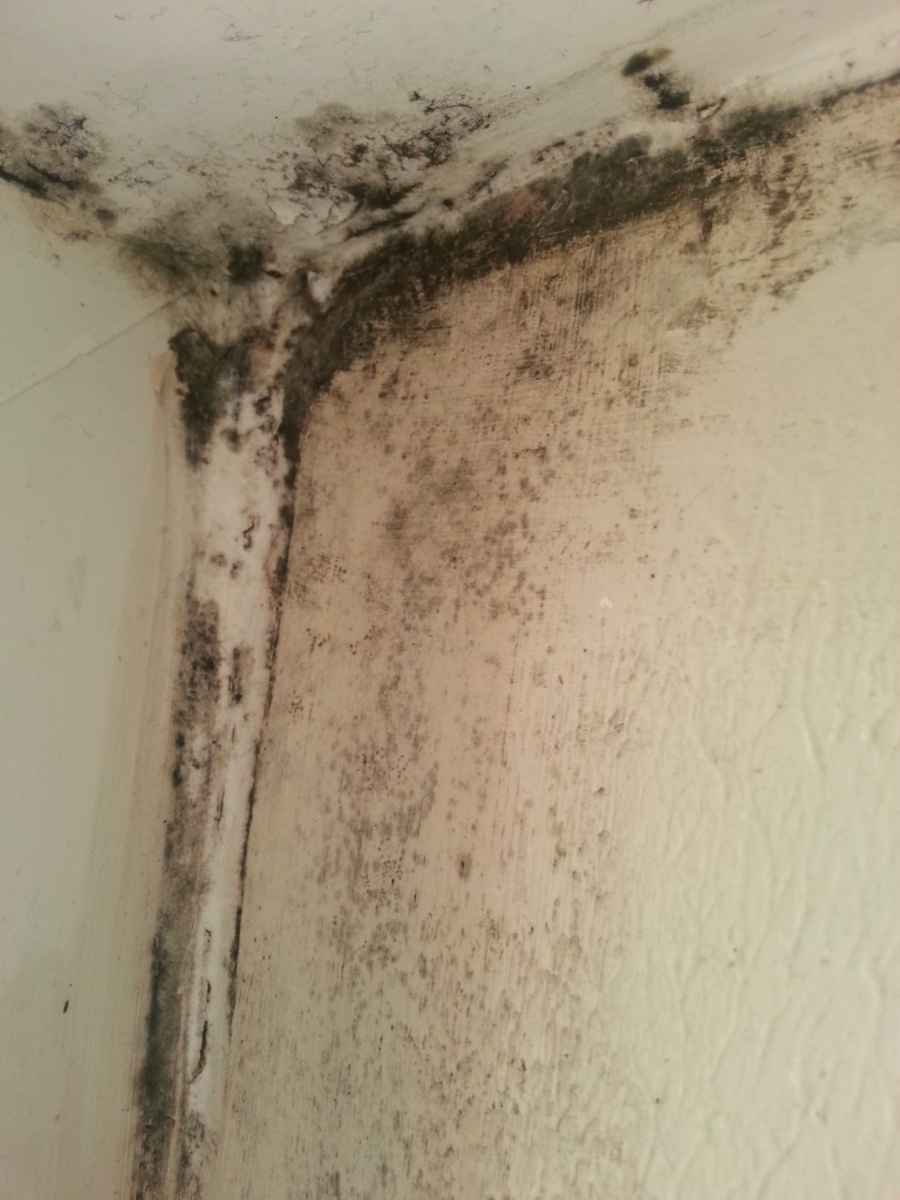 Above is the mould spot at the top of one of our test windows. In the winter this can be a problem in many homes because of condensation on the windows or an underlying damp problem. So, let's see how the mould spray tackles this…
Initial Application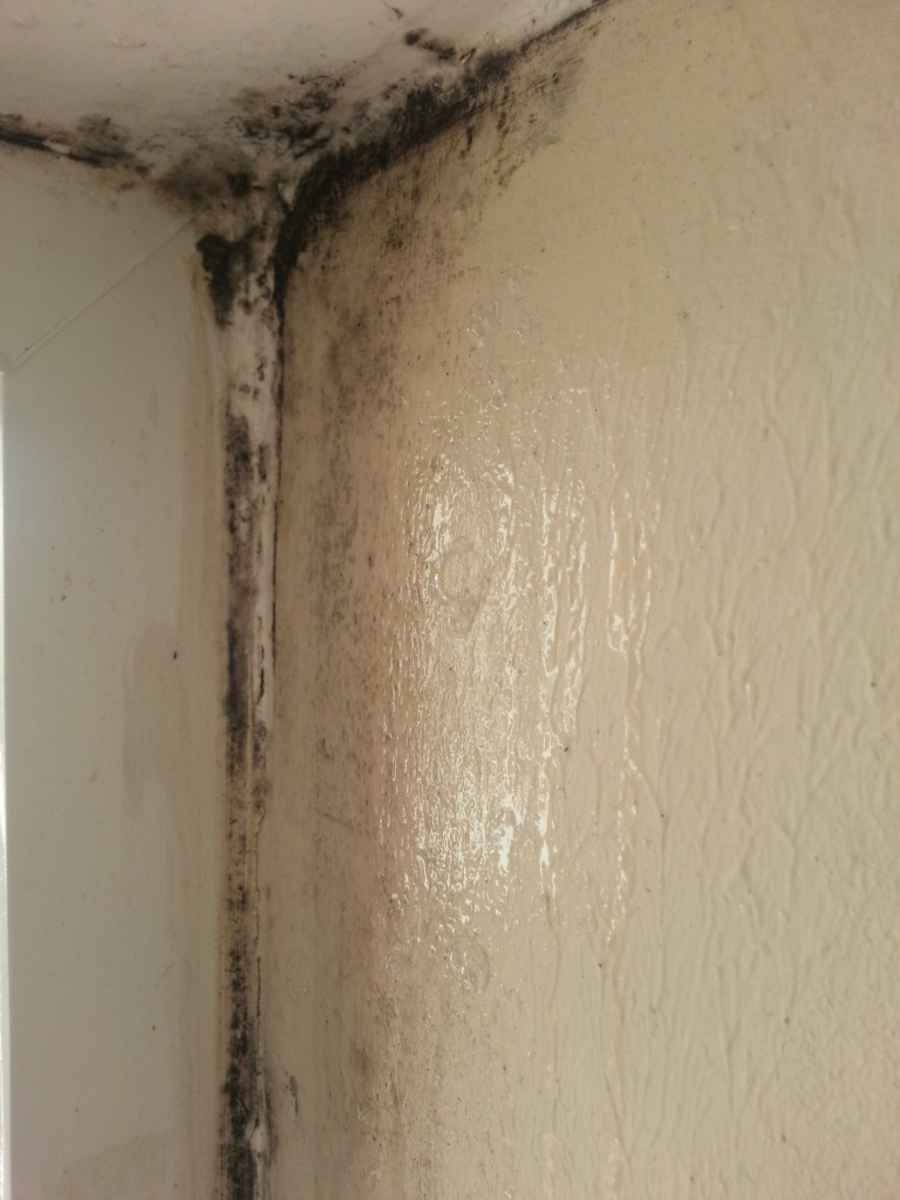 This is immediately after the application. It is a little runny and has a tendency to run off the walls quickly. With this mind, we recommend being wary of allowing it to come into contact with soft furnishings just in case the bleach content stains or bleaches the colour from them. We'd recommend placing some newspaper beneath the treatment area to catch any drips. However, even at this stage, you can begin to see it working.
5

Minutes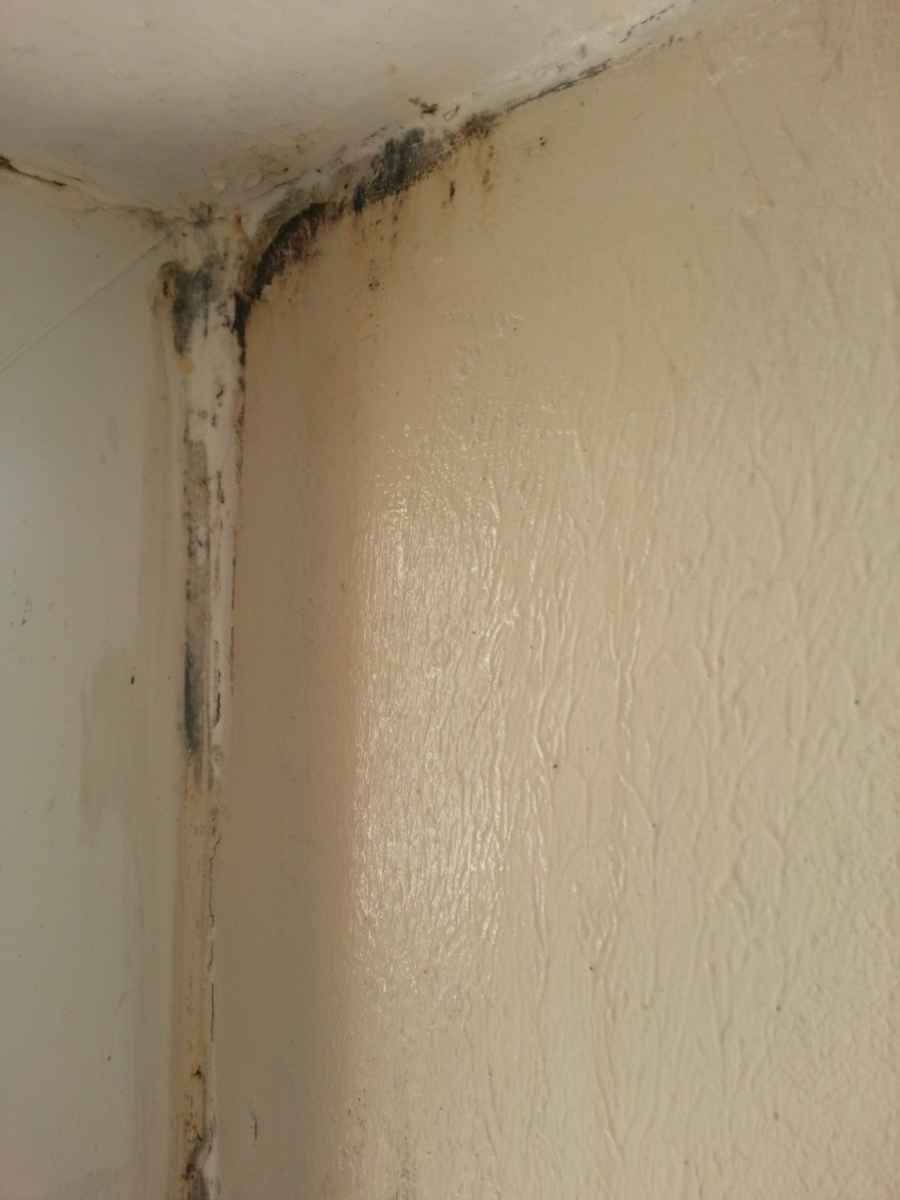 The above photo shows the spray at about 5 minutes in. As you can see a lot of the mould has gone and the remaining mould is beginning to die. So far so good.
10

Minutes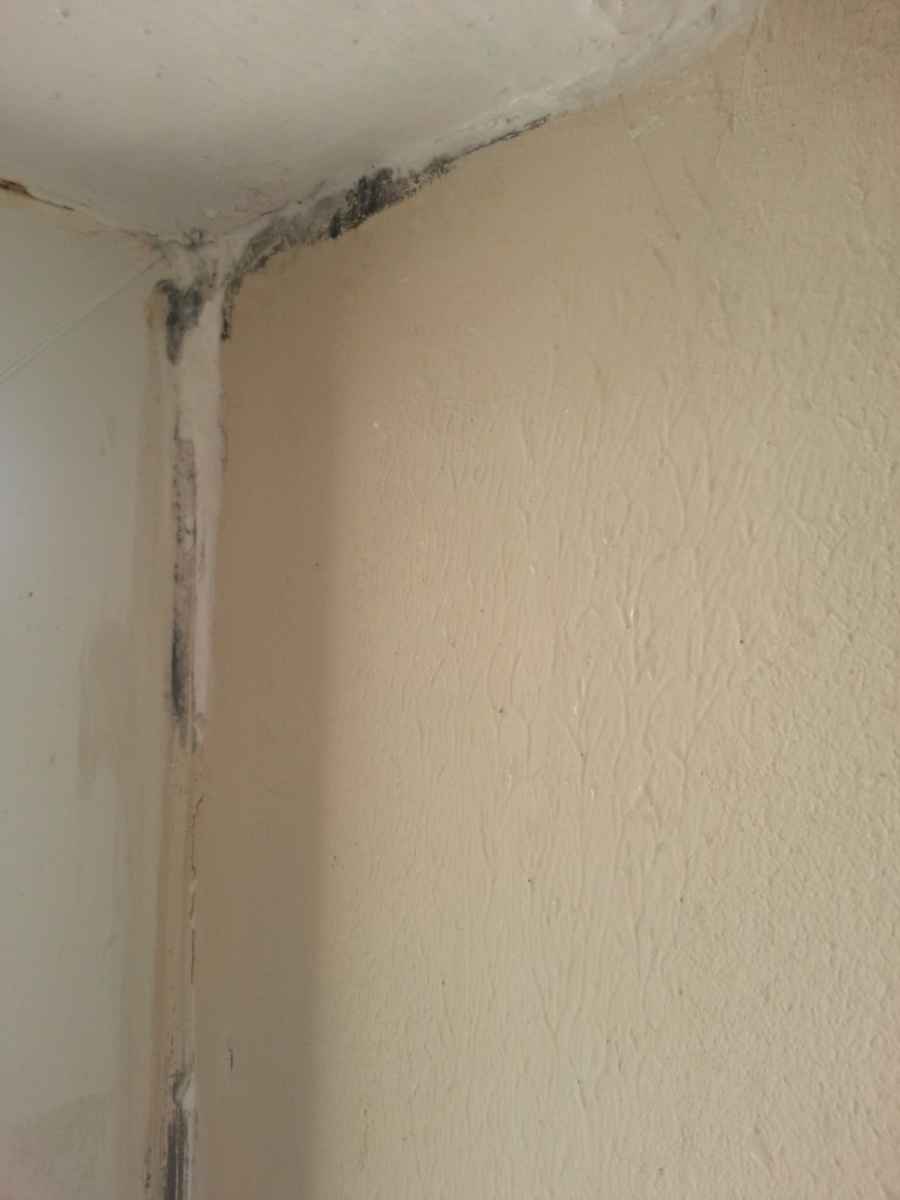 Finally we reach about 10 minutes in. At this point, we've wiped away the spray and you can see that the results are quite dramatic. Virtually all of the mould has gone. Another application or two would be all that is required to remove the rest. That is very impressive considering how bad the mould growth was. When tested on areas of lighter mould growth is has been completely eradicated in one application.
Does HG Mould Spray Damage Paint Work?
A question we've been asked often is: does it damage paintwork? As you can see from our test photographs this spray hasn't damaged our walls at all. It seems to dry quickly and the only times we have noticed paint flaking is as a result of mould and damp damage.
Whilst we can't guarantee it won't damage all walls we're pretty confident that it won't damage most painted walls – like the one we tested it on.
Pros And Cons
Pros
Removes mould without scrubbing from virtually any service.
Fast and easy to use. In most cases, you simply spray on the mould and leave it to do its job.
One bottle does go a long way. You can get rid of a lot of mould with it!
Anti mould agent prevents re-growth to provide longer gaps between cleaning.
Cons
Smells quite strongly of bleach and requires ventilation.
Contains caustic chemicals so care is required whilst using it.
Is HG Mould Spray Worth Buying?
HG's mould spray
represents excellent value for money. It is powerful and fast-acting as well as being incredibly easy to use and is fantastic for keeping your bathroom mould free or for spot removing any troublesome mould patches from around the home. It does require a little more care to use than most standard cleaning agents but, the extra care is worth the effort, given how effective this spray is.
Prices & information last updated on 2023-11-30