In this guide, we'll take a look at another dehumidifier from Meaco's ever-expanding range that's receiving very positive feedback from buyers: the Meaco 12L-AH compressor dehumidifier.
The 12L-AH is an average, mid-range unit with a reasonable set of features. It shares some similarities with the (more impressive) MeacoDry ABC 12L unit.
For one, both of these budget units are within the same price range. Secondly, besides having the same extraction capacity, these dehumidifiers fall in the compressor category as well. They also weigh 10.5Kg and feature recessed carry handles. However, unlike its counterpart, the Meaco 12L-AH comes with wheels.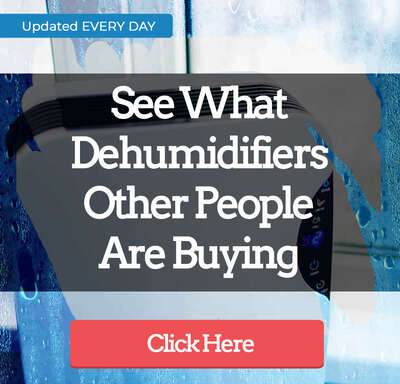 Product Specs
Preview:
Meaco 12L-AH - Key Product Info

Water Extraction Rate (24Hrs):
Continuous Drainage Option:
Noteworthy Features:
Digital Control Panel, Auto Restart, Dual Fan Speed, Charcoal/Dust Filter, and Timer
Meaco 12L-AH - Key Product Info
Preview:

Water Extraction Rate (24Hrs):
Continuous Drainage Option:
Noteworthy Features:
Digital Control Panel, Auto Restart, Dual Fan Speed, Charcoal/Dust Filter, and Timer
Prices & information last updated on 2023-11-28
Design
According to Meaco, the 12L-AH dehumidifier is for users who appreciate appliances that not only work but also look stylish. So, if pleasing form factor in a dehumidifier is essential to you, then this might be a perfect choice.
Despite this claim, it could be easy to dismiss the Meaco 12L-AH for being a dull looking dehumidifier. Because, at a glance, it just looks like a clunky box. But, look closer, and you will see some of the subtle features that make it stand out. For instance, rounded edges enhance the dehumidifier's cuboid shape. What's more, the coloured top grill and circular control panel with LED screen are some nice touches that will add to the decor of your home.
The engineers behind this product didn't just design it to look good. They also addressed some practical issues that make it easier to use. For example, you will have the option of fitting caster wheels at the bottom of your Meaco 12L-AH dehumidifier. Weighing 10.5Kg, this dehumidifier is fairly hefty but is still average for a compressor dehumidifier. Therefore, it is useful not having to carry that much weight and instead wheel your dehumidifier across smooth surfaces. And, if taking it up the stairs is unavoidable, you should be glad to know that it has a built-in carry handle on the rear top side.
When it comes to size, the Meaco 12L-AH measures 30.6 x 28.8 x 52.8 cm. With the wheels installed, it is a bit taller than the 12L MeacoDRY ABC. But, for a dehumidifier, it is still very compact and will not take up much space.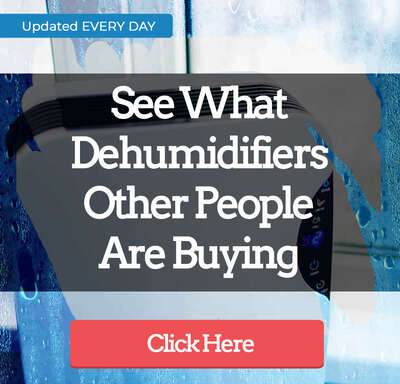 Speaking of storage, it is important to note that this dehumidifier should stay upright at all times, even when not in use. Much of this has to do with the design of its rotary compressor, which uses oil to function. So, if you store your Meaco 12L-AH dehumidifier horizontally, then it needs to remain upright for at least half an hour before turning on the next use so that oil drains back into the compressor.
Water Extraction Rate
As the name implies, the Meaco 12L-AH is capable of extracting up to a dozen litres of moisture from the air daily. As such, it's ideal for small flats and houses with up to three bedrooms.
With two air inlets, on the side and rear, the Meaco 12L-AH moves 120 cubic meters of air per hour. But, keep in mind that the amount of water it can extract largely depends on operating conditions. For instance, the maximum 12Litres extraction rate is only possible in temperatures of 30 degrees Celsius with relative humidity reaching 80%. Of course, air conditions do not reach such extremes in British weather. That makes this dehumidifier more than ideal for dealing with issues of mould growth, condensation and damp in homes.
You can set Meaco's AH 12L dehumidifier to maintain a relative humidity of up to 80% or as low as 40%. The compressor will continue drying air until it reaches the set humidity threshold. Unlike other dehumidifiers, the Meaco 12L AH's fan does not switch off once it reaches the target humidity level. Its fan runs continuously as long as the appliance is on, which means users have to put up with the constant humming of a rotating fan.
Noise output can reach up to 45dB, which is not the quietest dehumidifier around and puts it at about average for a compressor unit. On the plus side, it is possible to customize the fan speed on this unit. Setting it to run on the slower fan speed will reduce noise and come in handy for those times when you want your dehumidifier to run quietly.
A standby mode would have been fantastic to have not only when it comes to reducing noise levels but also as an energy saving function. But, the drier your air gets, the less power your Meaco 12L AH will need to run.
At peak performance (30°C 80% RH), it can draw up to 235Watts. But, once the dehumidifier reduces the humidity to more comfortable and liveable conditions of say 60% with the temperature being 20°C, power usage drops to 183Watts.
Emptying the Meaco 12L-AH Dehumidifier
Any water extracted from you home is collected in the 12L-AH's 1.7-Litre tank. The isn't the largest we have seen, but is still adequate for a domestic dehumidifier and for minor damp and condensation problems. It slides out from the front, so you won't have to turn around your dehumidifier when it's time to remove and empty the water tank.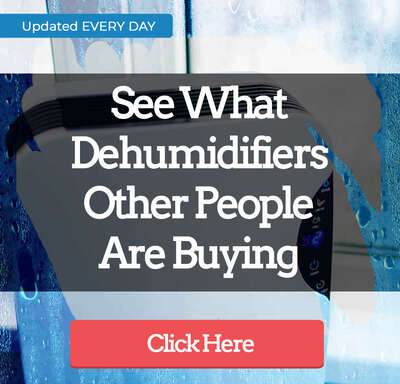 While the Meaco 12L-AH dehumidifier does not automatically switch-off after reaching the target humidity, that is not the case when the water tank fills up. As with all other Meaco dehumidifiers, the 12L-AH will not continue operating when the tank is full. This prevents water overflowing and creating a mess or even damaging your appliance. There is also an audio alert to signify when the tank is full.
If emptying your dehumidifier regularly could be a problem because you are out of your home a lot, using continuous drain option might be a more convenient option. All you need to do is connect a hose to the rear outlet port and direct water to a sink or drain. Using this facility bypasses the tank altogether and removes the need to empty water from the appliance.
Other Features
1) Removable Caster Wheels
The caster wheels that arrive as a standard feature of the Meaco 12L-AH dehumidifier can be removed. You may want to take these off after moving your dehumidifier to a permanent spot so that the unit is fixed firmly in place whilst in use.
As a bonus feature, Meaco also supplies four rubber feet. These accessories plug into the base in place of the caster wheels to offer better stability. When putting back the caster wheels, it is crucial to make sure the water tank is empty. You should also push the casters firmly in place, or the dehumidifier will not be level.
2) Colour Changing Digits
When running, the Meaco 12L-AH dehumidifier will show your current room relative humidity on its backlit LED screen. A nice feature of the LED screen is that readings display in different colours as the humidity changes.
When shown in blue, it means that conditions in your room or home are within the comfort zone of between 40% and 60% RH. When the digits turn red, the RH is too high. If the relative humidity is too low, the numbers display in green, letting you know that your air is perhaps too dry.
Over the years, the designers at Meaco have always tried to come up with innovative filters that make their dehumidifiers double up as air purifying appliances. With the Meaco 12L-AH compressor dehumidifier, you will get both a charcoal and particle filter. If you are having damp problems, the charcoal filter takes care of that by absorbing musty smells. On the other hand, the particle filter traps dust to keep your dehumidifier running smoothly.
The double walled filter does not need replacing. You only need to clean it regularly, or at least every two weeks as Meaco recommends. But, in case you need to replace the filter, Meaco offers excellent after sale services. So, finding replacement parts is just a matter of contacting customer support.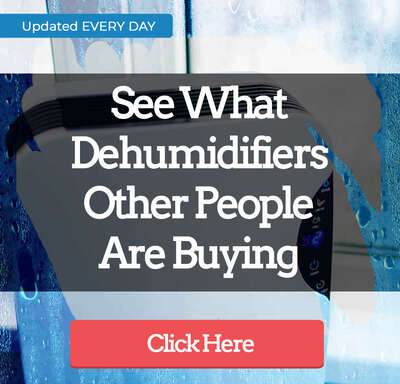 Any good dehumidifier will come with a timer function, and Meaco 12L-AH certainly delivers on this front. Its timer function adjusts in 1-hour increments. The maximum duration is 24 hours, and once the target operation time elapses, the dehumidifier will turn off automatically. Auto-shutdown comes in handy during those times the house is empty, and there is no need to keep the dehumidifier running and helps keep the running costs as low as possible.
Auto-restart is one more feature that makes it convenient to operate the 12L-AH. What this function does is to remember your settings when the dehumidifier restarts so that you don't have to reset it again.
But, the dehumidifier will only run automatically with the previous configuration if the power goes off and then comes back on while it is in use, or once you have emptied and refitted a full water tank.
As with most, if not all, compressor dehumidifiers this model features an auto defrost system. It can operate even when the temperature falls as low as 5°C. However, if the air going through the dehumidifier is not warmer than the condensing coils, the machine goes into periodic defrosting. This self-protecting feature prevents frost from accumulating and causing the dehumidifier to work inefficiently.
The functions of some dehumidifiers can be overwhelming. However, the Meaco 12L-AH model keeps things simple. In total, only four buttons are used to configure this appliance.
Moving from left to right, the first button on the control panel is the timer setting. To set a limited time of operation, press the timer button shortly after switching on the dehumidifier. Choosing 00 will cancel the timer, and instead, the dehumidifier will run continuously until you manually switch it off. As a bonus feature, the room's current temperature will show up on the screen if you hold down the timer button for about three seconds.
Next, albeit awkwardly placed as the second control, is the power on/off button. After plugging in the dehumidifier, the control panel won't work until you hit the power-on button. For that reason, it would have made more sense to position it as the first control.
The third button controls the humidistat. With each press, it adjusts the target relative humidity by increments of five per cent. Whatever configuration you select will appear on the backlit display. If you are visually impaired, the excellent thing about Meaco's 12L-AH compressor dehumidifier is that it displays readings in oversized digits that are easy to read.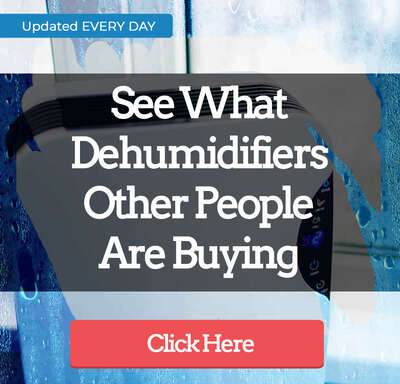 Finally, the last button to the far right controls fan speed. When pressed, its indicator light turns from red to blue to indicate either the high or low fan speed respectively.
Customer Impressions
So far, the Meaco 12L-AH compressor dehumidifier has managed to earn positive reviews from buyers. A few users have issues with dehumidifier's noise level and lack of standby mode.
For the most part, the consensus seems to be that this unit performs well at addressing damp problems in homes. Most buyers are happy with the fact that this model works as advertised.
Pros
Comes with a 2-year warranty
Large easy-to-read digital display
Free continuous drain hose included in the package.
Displays both relative humidity and room temperature
Cons
A bit noisy on high fan speed
Lacks standby mode and dedicated laundry function
Conclusion
The Meaco 12L-AH offers a decent extraction rate, convenient features and energy-efficient operation. And, thanks to its easy to read control panel with oversized, colour-changing digits, this model is also a good fit for those that don't want too many settings to configure and prefer a simpler, yet modern, device.
Overall, it makes a good choice if you need an easy-to-use dehumidifier for preventing mould, excess humidity and damp problems in a small home.
The only downsides are the few features it lacks that some users might find useful. The most notable of which are the dedicated laundry dry mode and auto-off functionality when the target humidity threshold has been reached. However, we can't help but feel that when compared to the similarly priced ABC the 12L-AH is lacking somewhat.
Prices & information last updated on 2023-11-28