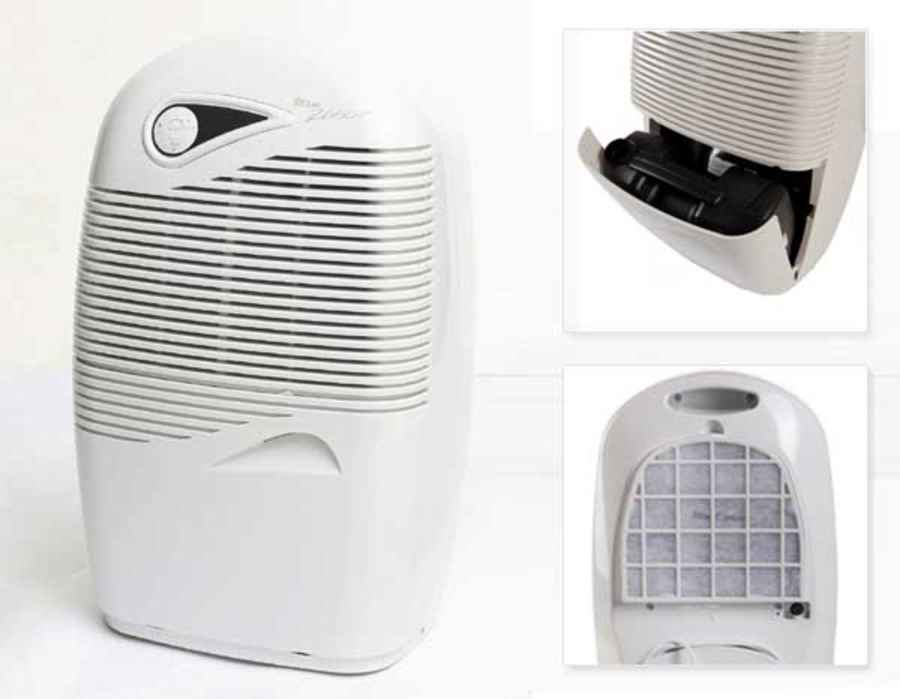 The Ebac 2650e has a basic appearance, but incorporates some proprietary technology that sets it apart from virtually all other dehumidifiers we've reviewed. It isn't the newest dehumidifier around (it was first introduced in 2004) but is a popular seller for Ebac and continues to get positive reviews. But does the 'smart' technology it uses actually work? And, how does it benefit you? In this review we'll find out.
The Ebac 2650e an Overview:
The Ebac 2650e Dehumidifier is packed with easy to use 'smart' features which are designed to both keep your homes humidity (and therefore mould and damp problems) down whilst saving your money. Rather than controlling the levels of humidity using only a humidistat it uses an exclusive technology to Ebac which allows it to retain optimum performance whilst using less energy when compared to most other dehumidifiers.
But, before we look at the new tech in this dehumidifier, let's begin by looking at the basics.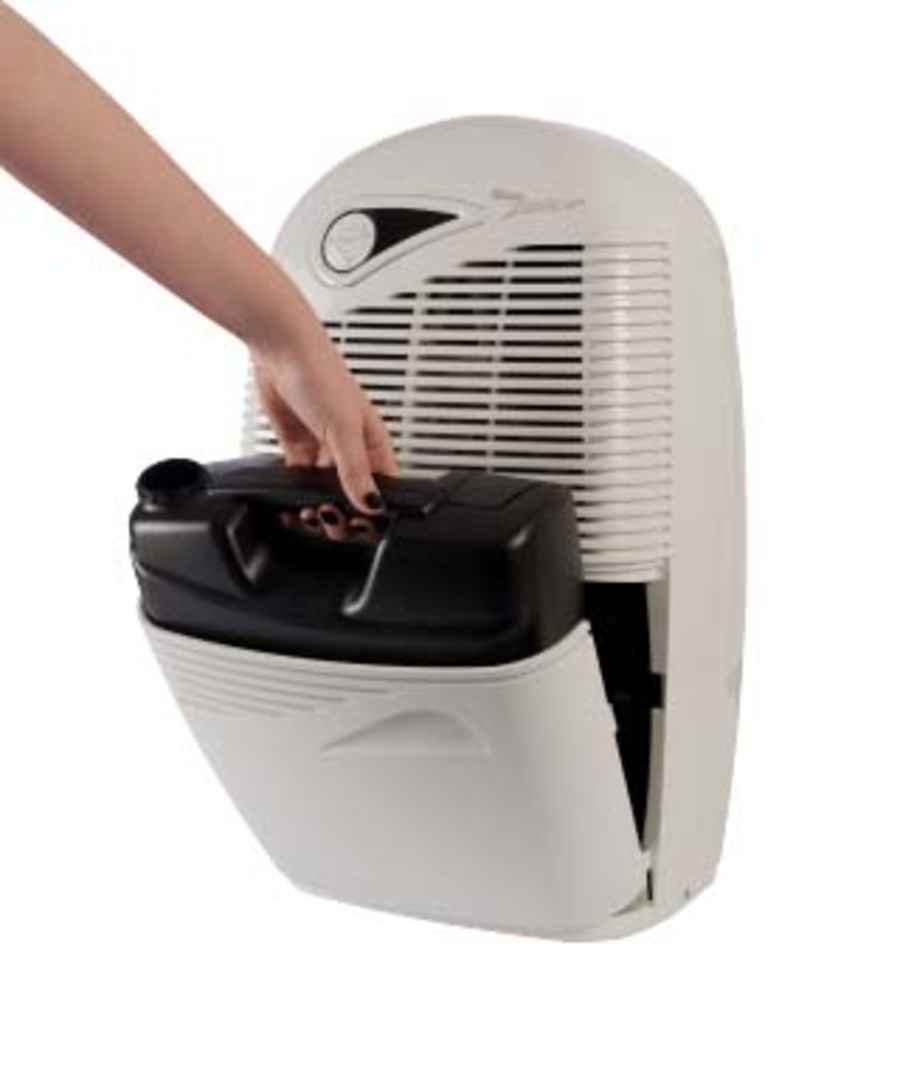 Like most refrigerant dehumidifiers this one sports a collection tank in the base of the unit and can collect up to 18 litres of water over a 24 hour period. This figure seemed a little high to us and despite Ebac being a UK brand with dehumidifiers designed and tested for UK conditions this figure is based on test conditions of a blistering 32°C and 90% RH – definitely not UK conditions! However quoting such favourable performance in even more favourable conditions is something all dehumidifiers manufacturers do. Even in the most damp of homes you would be hard pressed to extract more than 10 litres of water over a single 24 hour period and, as such, is a more realistic expectation of what you can expect from this machine.
The water collection tank itself can hold up to 3.5 litres of water and is one or the larger tanks we've seen. It can be easily accessed through the front of the device via a hinged flap which simply clicks open. The device also features an automatic cut-off facility when the tank is full and indicates this with a handy light on the unit. When you have removed the tank you will find it has a very sturdy carry handle common to nearly all Ebac models which makes carrying it away for emptying a breeze.
It is worth mentioning that sometimes the flap used to access the water tank can be a little loose and so feel a little cheap compared to the rest of the machine. But, we have found them to hold up well with no problems and they are quite sturdy.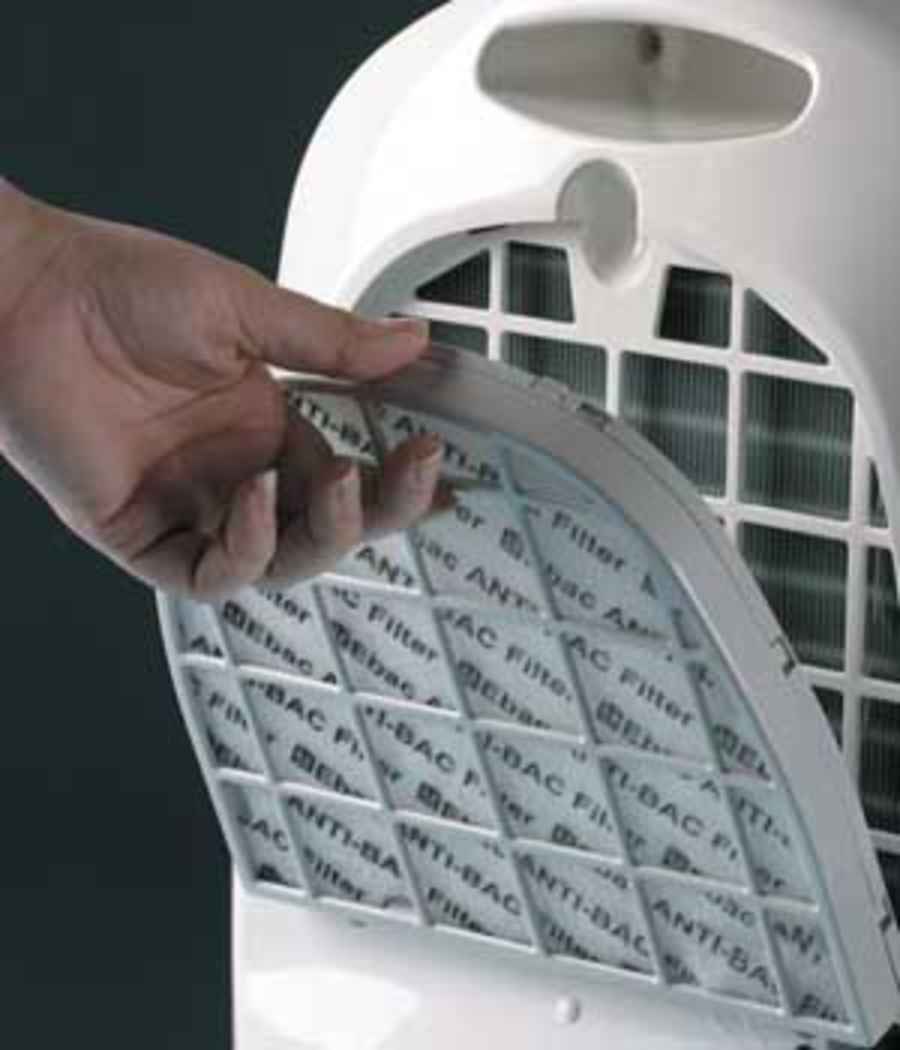 To the rear of the machine is the dust filter. Again, like the water tank access, this is opened very simply and requires no tools to access. The filter itself can be cleaned by gently rinsing it under warm water to remove any dirt and dust which may have accumulated. The filter can be a little fragile so be careful whilst you're cleaning it. On the whole though the removal and cleaning of the filters is a nice feature which means you won't need to keep paying for filters and one should last for quite a while. There is also the option to buy a filter that will remove airborne fungus and bacteria in addition to dust for extra protection and should certainly help anyone with any breathing difficulties (such as asthma).
There's a built in handle at the top that is very sturdy however, some people might find this unit heavy to move because it weighs 13kgs. But, this is not much more different to any other dehumidifier of this type and all are rather bulky because of the compressor unit they contain. Ebac recommends that you place this dehumidifier in a central location in your home for optimal effect – such as at the top/bottom of your stairs, so theoretically it shouldn't require moving too much anyway.
How to Configure the 2650e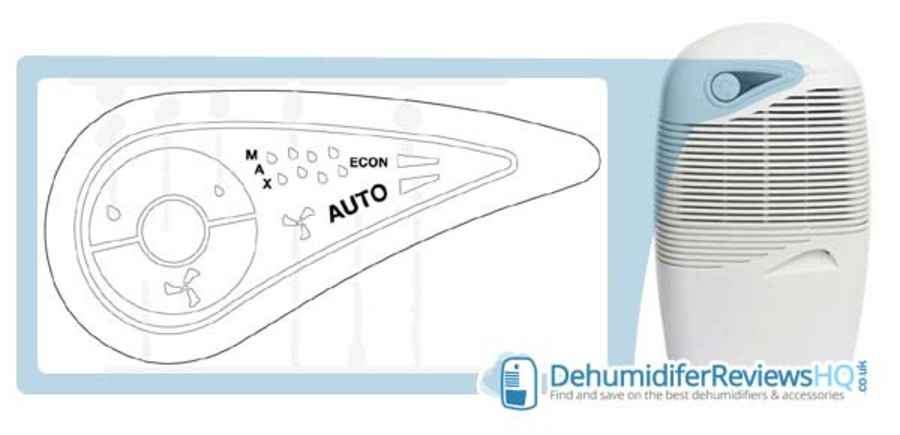 On top of the front of the unit there is a handy LED display that allows you to easily configure and see what the machine is doing. Despite featuring a system which can, in effect, take over automatic operation for you, the 2650e still comes with a few easy to use controls that allow you to set this device to run exactly how you need it to.
The control panel itself consists of a 4 buttons and a series of indicator lights which are designed to tell you what the machine is doing. The fours buttons allow you to control the fan speed, the mode the unit is operating in (normal or 'smart control'), and adjust the desired humidity threshold.
The mode button also boasts one more feature which is 'boost control' setting. Pressing the mode button until 'max' is illuminated on the control panel will cause the machine to work in the highest setting for 8 hours to maximize water extraction. This setting is really useful to help dry washing or to quickly dry out really damp rooms, although it will be the setting which consumes the most energy so we don't recommend using it for daily use.
The fan speed button is also worth a mention because it gives you the choice between noise and power, the lower the speed the quieter the machine will operate but the less water it will extract and vice versa.
Intelligently Controlled With a System That Monitors Your Habits
This particular set of features is pretty impressive for a dehumidifier. Don't be scared through! All this means is that it learns how to operate more effectively whilst saving you money by keeping an eye on humidity levels. It monitors the external and internal environments to help it know when it should and shouldn't be working. It keeps and eye on when you make tea, take a shower or cook – basically any event in your home that can produce excess moisture or dampness. The best part is that it does all of this completely automatically without intervention. Ebac call this technology Patented Proportionate Control and is obviously unique to their devices. In essence it is smart way that makes sure the dehumidifier only runs when it is needed. It also gives you the added bonus of configuring the unit to run with a single button press.
Smart Defrost
One of the smartest features we've seen with on this unit is the intelligent defrost feature. The problem with some refrigerant dehumidifiers is that they can occasionally freeze up which causes their effectiveness to drop dramatically or even cease. Some even continue to operate (even when frozen), costing you money even though the device is not working as it should. The Ebac 2650e features a system that calculates when it thinks the refrigeration coils might freeze and suspends their operation to make sure they can defrost. The faster the coils defrost, then the sooner they unit can start working effectively again and the less money you waste.
Made For The UK
This dehumidifier has been designed, tested and built specifically for the UK climate to help increase it's effectiveness. We have a wide range of weather patterns because the UK is an island. This means wind can arrive from any direction and change the levels of humidity and a it would be beneficial to have a dehumidifier which can adjust and keep up with these changes. Dehumidifiers manufactured in the far east will not be adapted to our environment as humidity levels are typically much higher than those we are used to here; and because this unit has been built specifically for this environment they are ideal for removing excess humidity and moisture from your home in the most efficient way.
Where Can It Be Used?
Because the 2650e is a refrigerant dehumidifier it is ideally suited for use within the home and won't be as effective in, say, your garage or other colder outbuildings where the temperatures can plummet. In fact, the 2650e can only operate in temperatures down to 3°C but at this temperature its performance would have dropped significantly. If you do need to use a dehumidifier in these conditions we recommend checking out the popular DD122fw by EcoAir.
However, when used in the home this model really is a powerhouse and can comfortably keep houses up to 180m² dry – which is about an average 3-4 bedroom home.
Is The Ebac 2650e Still Good Value For Money?
Despite coming with a slightly higher price tag than some dehumidifiers of this type this unit is certainly loaded with useful and money saving features to back it up the bit extra money. From its intelligent systems which monitor you home and control its own operation to the smart defrost system and components made to deal specifically with UK weather this device is designed to operate automatically without any intervention. And, despite being an older model, it can still complete well will most of the latest units available today. In our view that makes this dehumidifier excellent value for money that should save you both time and money.
Next Review: Meaco 10L