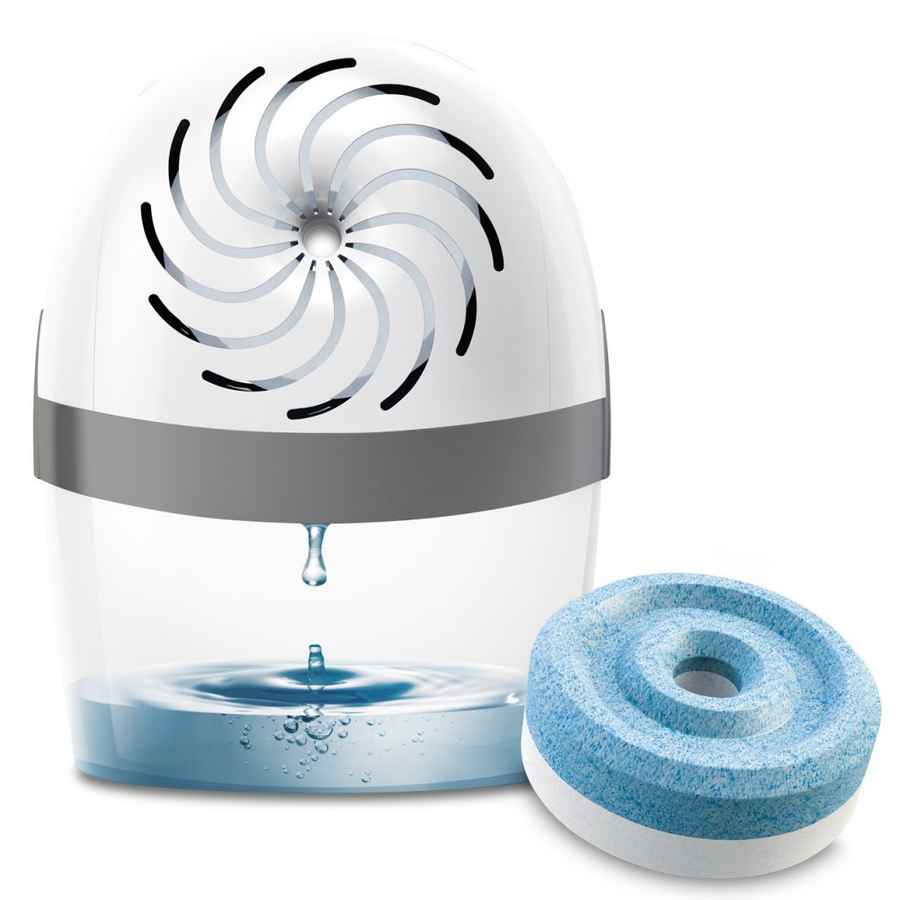 The Aero 360 by Unibond has received a lot of positive reviews and claims to offer exceptional performance compared to other non-electric desiccant absorbers on the market. So, lets take a look under the hood and see just how this moisture trap works and what makes it so special.
The Non-Electric Dehumidifier That Absorbs Moisture From Whole Rooms!
Most small desiccant humidity/moisture absorbers are only ideal for small places such as inside cupboards or in your car. Typically they are not too effective in entire rooms. However the Unibond Aero 360 appears to break this trend (and has rave reviews to back it up) because of its powerful ability to be used in rooms of up to 20 square meters.
Appearing almost like a mini-dehumidifier the Aero 360 uses a natural process to draw in and absorb excess humidity/moisture from the air. It's so effective that it can collect up to 40% more moisture than previous humidity absorbers made by Henkel (the company behind the UniBond brand).
How It Works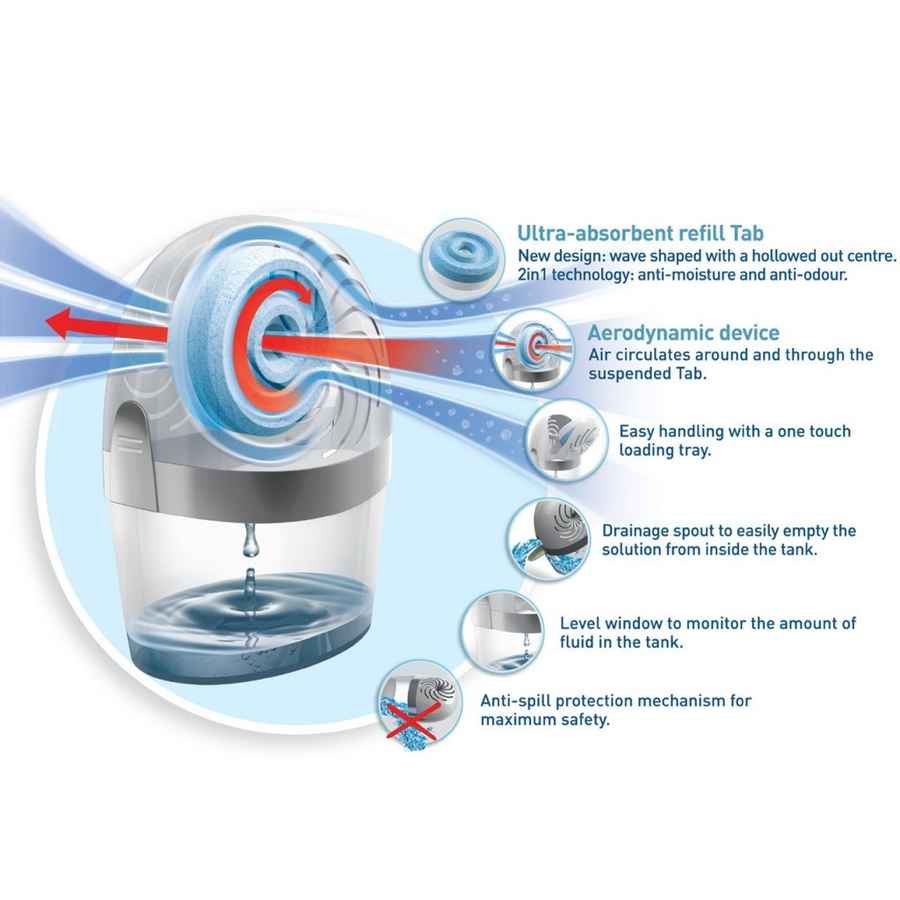 Unlike most non-electrical desiccant absorbers the Aero 360 works in quite a different way which allows for its increased effectiveness. The most notable change is the structure and composition of the hygroscopic substance (the component which absorbs moisture). In most absorbers a layer of crystals absorb the humidity through the top of the device and then filters this into a collection tub at the base. The Aero 360 uses a unique 'doughnut' shaped absorber, known as a 'tab', which is suspended above the collection tank. This shape allows air to both circulate through, over and around the tab which is much more aerodynamic allowing greater airflow to move through the tab and therefore more moisture is absorbed. The second most notable change is the inclusion of second substance along with the hygroscopic compound which reduces the odors associated with humidity. Meaning it will not only reduce excess humidity and moisture but also reduce the musty damp smells it brings.
How It Helps
Like most dehumidifiers and absorbers this device can help prevent a host or problems that are associated and directly related to moisture: from damage to paint work and plaster to difficulty heating your home (damp air takes longer to heat and makes you feel colder) right through to helping reduce dust mites and allergens in the air.
Other Features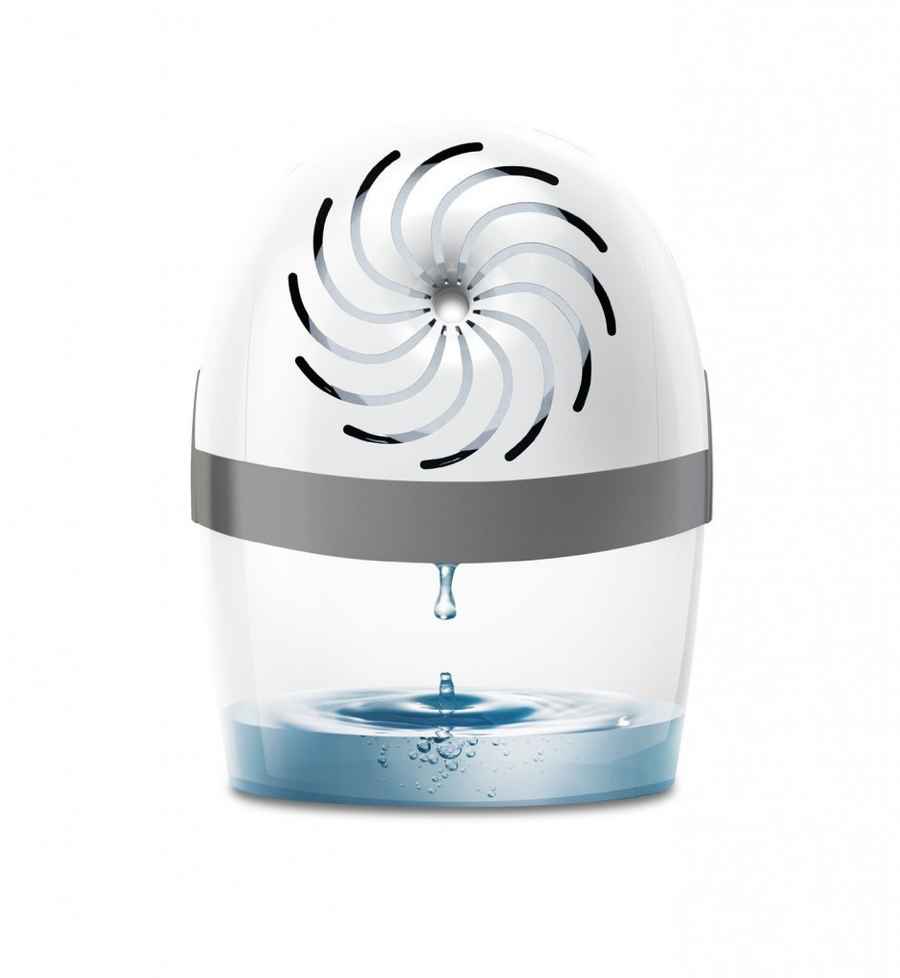 As you might expect there are some really handy features that have been designed into the Aero 360 which really add to its already exceptional performance. The first is a handy pouring spout so you can empty the tank with ease (the spout also closes when not in use to keep it safely out of the way). The second feature is sure to come in handy on more than one occasion and that is the anti-spill protection mechanism – particularly handy if you plan to use this in something which does move like a car or caravan. The third is an ease-of-use feature that allows you to simply pop open the front of the unit to quickly and easily replace the tab when required; and finally the clear tank at the bottom has a level window so you can easily see when the tank is full.
What Are The Advantages of The Aero 360?
The truth is that no moisture absorber will ever be as powerful as an electric dehumidifier. However, this does not mean they are not effective and they actually come with their own host of benefits which are actually BETTER than their electrically powered counterparts.
One of the main advantages of units likes the Aero 360 is that it produces no noise at all because it has no moving parts (unlike compressor units which produce a lot of noise in some dehumidifiers) and it uses a natural process to draw in excess moisture which requires no energy source. This means it is ultra portable and can be used in places where is limited or no power (like your car or caravan). And, because it is silent, it means you can use it virtually anywhere in your home 24/7 – including your bedroom or living room, where an electric dehumidifier might be a little too noisy.
Good Value For Money?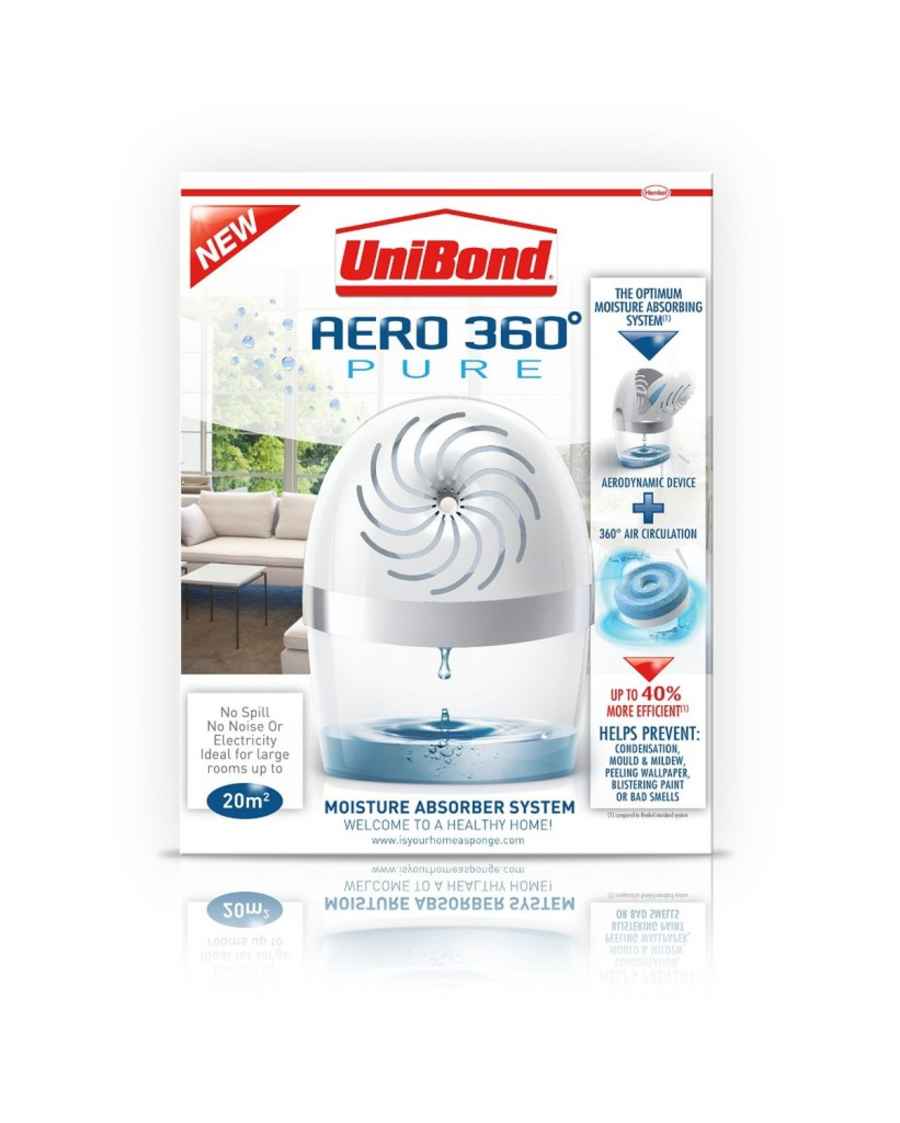 Given its exceptional performance up to 20 square meters which is backed by rave reviews this device would be excellent for any one that wants to deal with mild damp or excess humidity in a room in their home but may not want to splash out on a much more expensive refrigerant or electrically powered desiccant dehumidifier. For that reason alone it, in our opinion, it represents excellent value for anyone looking for a cost effective way to help deal with any minor damp/humidity issues; and so long as your expectations are set in level with this device (IE it is not a dehumidifier!) then it should not disappoint.
Not only that but for a humidity absorber this device is rather stylish. Appearing like a cross between a dehumidifier and a diffuser/air freshener. An unusual look it pulls off very well and is sure to look right at home anywhere you need it.