UPDATE: The Des16e has been superseded by the more impressive DEX12, also by Delonghi. It features Aria-Dry technology, much lower operating noise and a host of improvements. You can read our full
review of the DEX12 here
.
The Delonghi Des16e is one of the Des Slim range and represents the top end model. It is the most powerful of the bunch which starts with the Des12 and features an electronic control panel over the other units simple analogue controls.
Delonghi Des16e – Overview
The Des16e is has a very small footprint and can be tucked away in the smallest of spaces for discreet operating. In fact, you can push it virtually against a wall and it will operate! Most units require at least 20cm around all sides to work. It measures just 48cm high, by 37cm wide, by 19 deep and weighs only 9kg. This is on the light side for a dehumidifier of this type and can also be carried by the top-mounted folding carry handle. But for those of you who do not want to lift it around when you move it you can also fit 4 castor wheels (which are supplied in the box) to allow you to slide it between rooms.
Some people have complained that the Des16e is noisy. But for a compressor dehumidifier (which uses a pump to draw moisture from the air) it is actually rather quiet and should sound a bit like a fan running at its lowest power. Its noise level ranges between 38dB(A) to 42dB(A). Which is very respectable and, to put this in perspective, some of the noisiest units we've seen can be up to 47/48dB(a). On the whole, every dehumidifier produces noise and, when placed in a hall, you barely notice them at all.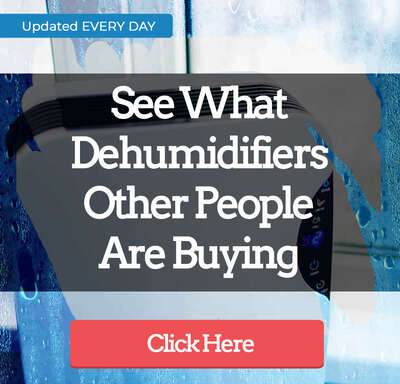 Using The Des16e – Controls
The Des16e's control panel impressed us immensely and is comparable to the features and panel you can find on the EcoAir DC12. It isn't the most immediately intuitive panel we've seen, and it may take you a minute to figure it out, but when you have you'll soon see the benefits it offers. You can fine-tune the humidity level, fan speed and operating modes. It even has in-built hygrometer so you can see what the current humidity level and how the machine is performing. All of these features aren't just for show, and they are genuinely beneficial because they can save you money by keeping the running costs as low as possible. Which is an important consideration if you need a dehumidifier to keep general damp/condensation at bay in your home and will need it running often.
On the panel are a series of six buttons and an impressive LCD display which glows a warm blue whilst you are using it to increase its visibility in low light conditions. After you've switched the unit on the first button you'll need to use is the 'Mode' button. You can set the machine in 4 different modes Dehumidifying, Dry, Smart and Fan.
Each of these modes represents the real 'meat' of what the unit can do for you and how it could help your home. So, let's take a brief look at each one in turn.
This mode is used to bring the relative humidity (RH) in your home down to a level you are comfortable with. In most UK homes this would be around the 50% RH level. At this humidity level condensation cannot form and mould cannot grow and it is the most comfortable level for most people.
You can set the level from 30% up to 80% RH with 30% being very dry and 80% being quite humid. To set the humidity level you press either of the "+" or "-" keys to increment and decrement the RH in 5% increments respectively. This is a huge improvement over most machines that simply have a min, med or max humidity level that only provide a vague idea of the RH.
Like all good dehumidifiers this one is controlled by a humidistat and will switch itself off when the desired humidity level has been reached – which is a great energy saver, why leave it running when it doesn't need to be? It will then fire itself up every at set intervals to sample the air. If the humidity is too high it will jump into action again to bring it back to your set level. By doing this the Des16e can keep your home at a reasonably constant humidity level.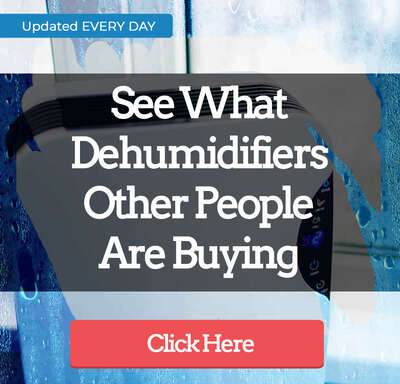 When in this mode you can also set the fan speed and have a choice between 'Min' and 'Max'. This is pretty standard for most dehumidifiers and, to be honest, we find the main reason you'll want to use this is to control the noise level of the machine. In max, it will obviously be noisier, but more powerful, and we recommend using it only to get on top of major damp problems or to quickly suck condensation from your windows.
Dry mode switches the machine into high gear! It will work as hard and as quick as it can to bring the RH down rapidly and will always run the fan on high speed (this cannot be changed whilst in this mode).
But what would you use this for? Well, in most cases, it would be used to dry your washing or deal with damp and condensation quickly. Remember whilst in this mode the unit will be consuming the most amount of power. So if you want to keep your running costs as low as possible don't use this setting for daily use. Instead, deal with the damp issue, and then put the machine back into dehumidifying mode.
On different machines, this feature has many different names, from 'intelligent control' to 'e7 technology' and so on. In general, they all do the same thing – and 'Smart mode' is no different. In this mode you let the dehumidifier do the hard work. It decides what humidity level it should reach, the fan speed and how long it should run. Delonghi says this is to based on the 'optimum settings for maximum comfort'. Which is pretty vague and I imagine they are not going to reveal how the unit decides what settings to use because most dehumidifier manufacturers see the technology powering this feature as their 'ace in the hole' which sets them apart from the competition. But, this is a fantastic setting for anyone who can't be bothered with the controls and just wants to switch it on a let it do all of the work (which is probably most of us!).
No dehumidifier is completely hands-free and you will need to empty the tank and generally just make sure it is working every now and then. The LCD screen on the Des16e provides you with an easy to use feedback system to check this:
'–' means the unit is in standby mode.
'FT' means the tank is full or inserted incorrectly.
'*' means the ambient temperature is getting too low for this unit to function effectively. As soon as you heat the room a little this warning will vanish.
'PF' means the humidistat may be malfunctioning or the humidity is too low to be measured.
Where can you use it?
Like most dehumidifiers, this device is going to most at home inside your house (IE not in a garage or outbuilding). The technology used to condense and collect the water in this device does not function well at low temperatures and will begin to decline rapidly once the temperature reaches below 10°C.
When it gets too cold most dehumidifiers of this type spend most of their time simply running the fan to stop frost forming inside the machine instead of collecting water. So, if you're looking for a device you can use in your outbuildings or garage and which is better suited to dealing with the cold we recommend checking out the EcoAir ECO DD122.
But, for most homes up to a maximum of around 3/4 bedrooms, this device should work very well. As with every dehumidifier, it will perform best when left to work in a single room such as a large living room, your bathroom or kitchen. Essentially anywhere humidity is likely to build up.
Performance
Over the course of one day, Delonghi claims that Des16e can collect 16 litres of water. Of course, Delonghi measured this performance in temperature and humidity conditions well outside of the norm for the UK (32°C @ 80% RH)! But, what can you expect from this? In most cases, the rather large 3-litre collection tank will only fill once every few days and less during warmer months. The only time it may need emptying once or more per day is when you first buy it and begin getting the excess humidity under control.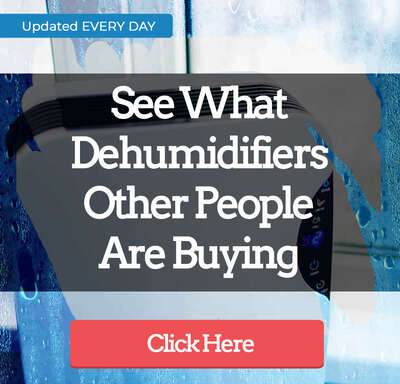 You can always check how full the tank is by checking the convenient window access on the front of the dehumidifier. The tank can be pulled out of the side for emptying. If you prefer not to empty the bucket you can set the unit for continuous drainage using the supplied hose. The hose always needs to be at a downward sloping angle and we find the easiest way to do this is to set the unit on a kitchen worktop and allow it to drain directly into the sink – particularly useful if you want to use this in your caravan.
What We Think About The Delonghi Des16e:
The Delonghi Des16e is a good unit that has some really strong points, including its size, the fact it can be pushed against a wall and still operate and it's impressive electronic control panel.