It also features an impressive water extraction rate of up to 8 litres per day and is comparable to its successor the DD8L Zambezi in this regard. This extraction rate also compares very well to the performance of some larger dehumidifiers and means this unit isn't lacking in power for its size.
Meaco DD8L – Key Product Specifications
Preview:
Meaco DD8L - Key Product Specifications

Title:
Meaco Portable Dehumidifier DD8L - Compact Desiccant Dehumidifier - Best For Small Homes & Spaces - Prevent Condensation, Mould & Damp - 18 x 35 x 50 cm
Water Extraction (24 Hrs):
Noteworthy Features:
Antibacterial filter, Compact & Lightweight, Ideal for homes, caravans & boats, Time, Money saving Meaco Control Logic
Meaco DD8L - Key Product Specifications
Preview:

Title:
Meaco Portable Dehumidifier DD8L - Compact Desiccant Dehumidifier - Best For Small Homes & Spaces - Prevent Condensation, Mould & Damp - 18 x 35 x 50 cm
Water Extraction (24 Hrs):
Noteworthy Features:
Antibacterial filter, Compact & Lightweight, Ideal for homes, caravans & boats, Time, Money saving Meaco Control Logic
Prices & information last updated on 2023-11-29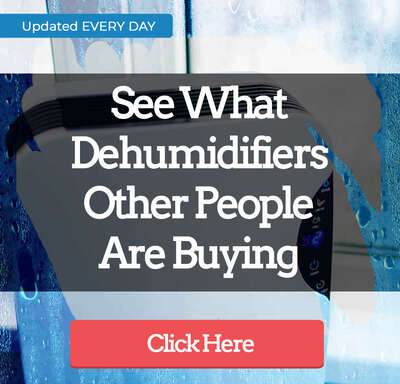 Meaco DD8L – Overview
When it comes to looks the DD8L isn't the most modern of designs we've seen. The control panel looks slightly dated when compared to Meaco's latest flagship products such as the Dehumidryer and ABC range. This is, in part, because the DD8L was first introduced in 2010.
But, don't let aesthetics or age dissuade you from considering the DD8L. It has remained a consistently high seller and has a plethora of positive reviews in its name. For the simple reason, that is works.
It also features a very respectable set of controls and configuration options we would expect to see on any of the more modern dehumidifiers available today. These controls allow you to get the best out of the DD8L whilst keeping running costs as low as possible. (We'll cover these in more detail later in this review).
Portability
Given the DD8L's low weight it is easy to move around the home. And, as such, does not feature the caster wheels that many heavier dehumidifiers require.
To further help with portability Meaco have furnished the DD8L with a top-mounted recessed carry grip. Which is fairly easy to hold but lacks the same stability offered by folding carry handles.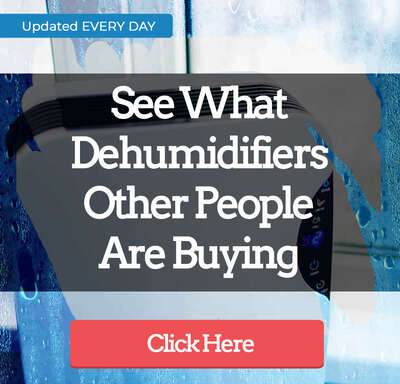 Using such a handle would have been a better option and later dehumidifiers by Meaco, such as the DD8L Zamebezi and the 20L, are furnished with these. But, given the DD8L's small size and low weight, this really isn't too big an issue.
Filter & Ionizer
Impressively the DD8L features both an antibacterial filter and Ionizer unit. This combination means it will not only remove dust from the air bust also allergens, bacteria and mould spores.
Water Tank
The water tank can hold up to 2 litres before it needs to be emptied. This is a little on the small size but, this meant to be a compact unit after all, so it was never going to sport a larger 5 or 6-litre tank.
Here the DD8L is configured to use the continuous drainage option using the supplied hose
If this represents a problem, Meaco have positioned a continuous drainage point at the back allowing you to bypass the tank altogether. And, at the time of writing, have even included the required drainage hose to use this feature. It is worth mentioning, that Meaco is phasing out supplying such hoses citing that not many people use them.
The last thing to note about the tank is that, in an unusual move, Meaco have position it at the rear of the DD8L. This means you may have to move the dehumidifier to empty it. Especially since many people use them tucked in corners or close to walls.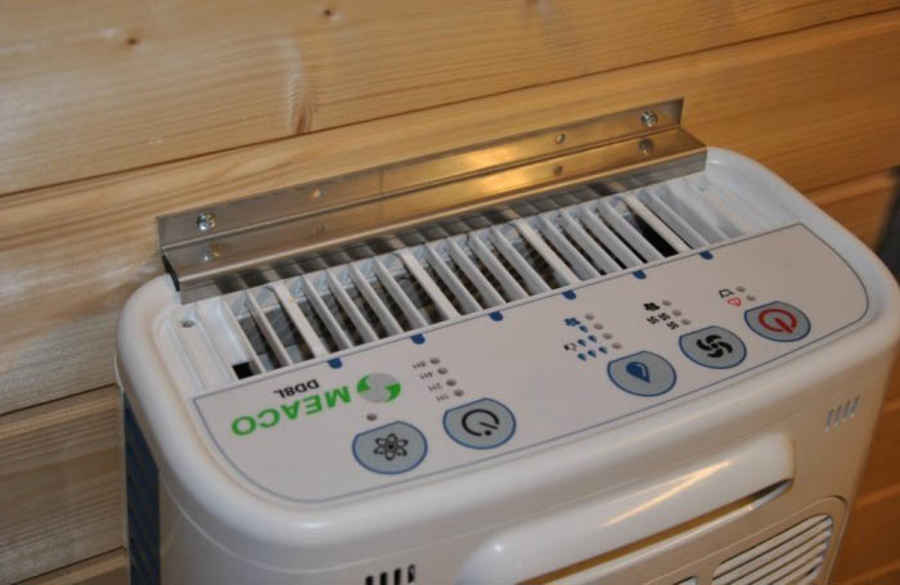 The only reason we can think of Meaco choose this layout is because they sell a wall-mounting bracket for the DD8L. This configuration ensures both the air vent and the tank can are unobstructed and easily accessible when the DD8L is fixed to a wall.
Effectivness and Running Costs
Made for the UK climate and homes the DD8L can extract up to 8 Litres of water from your home every day. This figure might seem low especially when compared to refrigerant dehumidifiers that can boast figures of up to 20L of water extraction per day.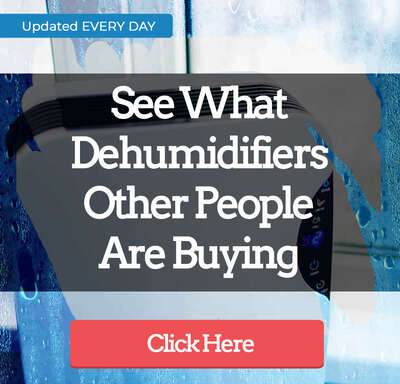 However, the key point to remember here is that often the maximum extraction rates of these units are quoted from test conditions rarely if ever, found in the UK. Plus when temperatures plummet, as they often do in the UK, refrigerant units will decrease in their efficiency along with the temperature drop.
Therefore the DD8L will easily outperform many units quoted with much higher extraction rates since it does not suffer from this drawback.
Not only this but is costs just 5.02p/hour (based on 15.2p/kWh) in its lowest mode making it very economical to run for a desiccant dehumidifier.
Controls
The top mounted control panel is in a style common to Meaco dehumidifiers and consists of four buttons. Each button provides quick access to a key setting and single or multiple presses of each is all that is needed to configure each option in turn. But don't worry! If you just want something simple the DD8L can also be switched onto its default settings with a single button press.
Below each button is a series of indication lights designed to inform you what the dehumidifier is doing and if any problems have arisen (such as a full water tank). Below, we'll take a look at each of the buttons in turn and look at what the indicator lights mean: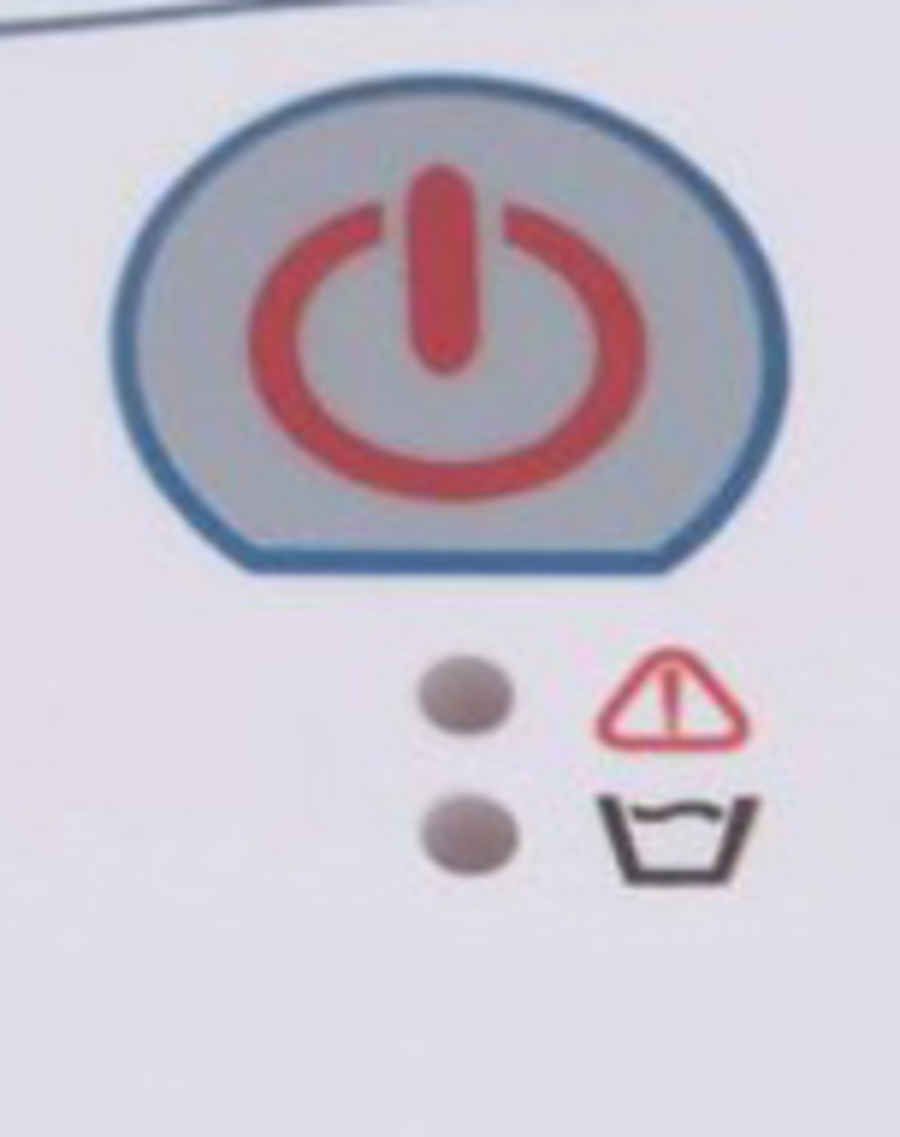 Moving from left to right across the panel (as shown in the picture above) the first button you'll come to is the power button. A single press will bring the machine to life and greet you with a series of 3 bleeps. These beeps signify the DD8L has powered on OK and is working.
Beneath the power button are the first two indicator lights we'll come across on our journey across the control panel. The top 'red triangle' is a general fault light that will illuminate if the machine is having trouble. Not very helpful by itself, however, Meaco have provided a description of what this is most likely to be. The most common culprit for this is a blocked air inlet which causes the machine to overheat. A quick clean and you should be good to go again.
The next light is more obvious and is a simple tank 'full' indication light. It will also illuminate when the tank is fitted incorrectly.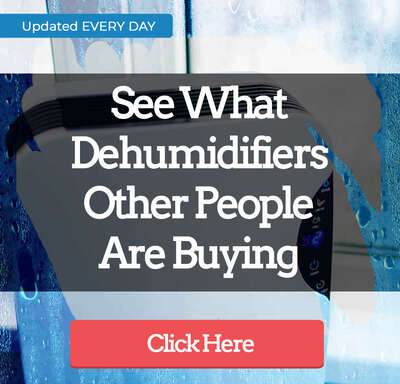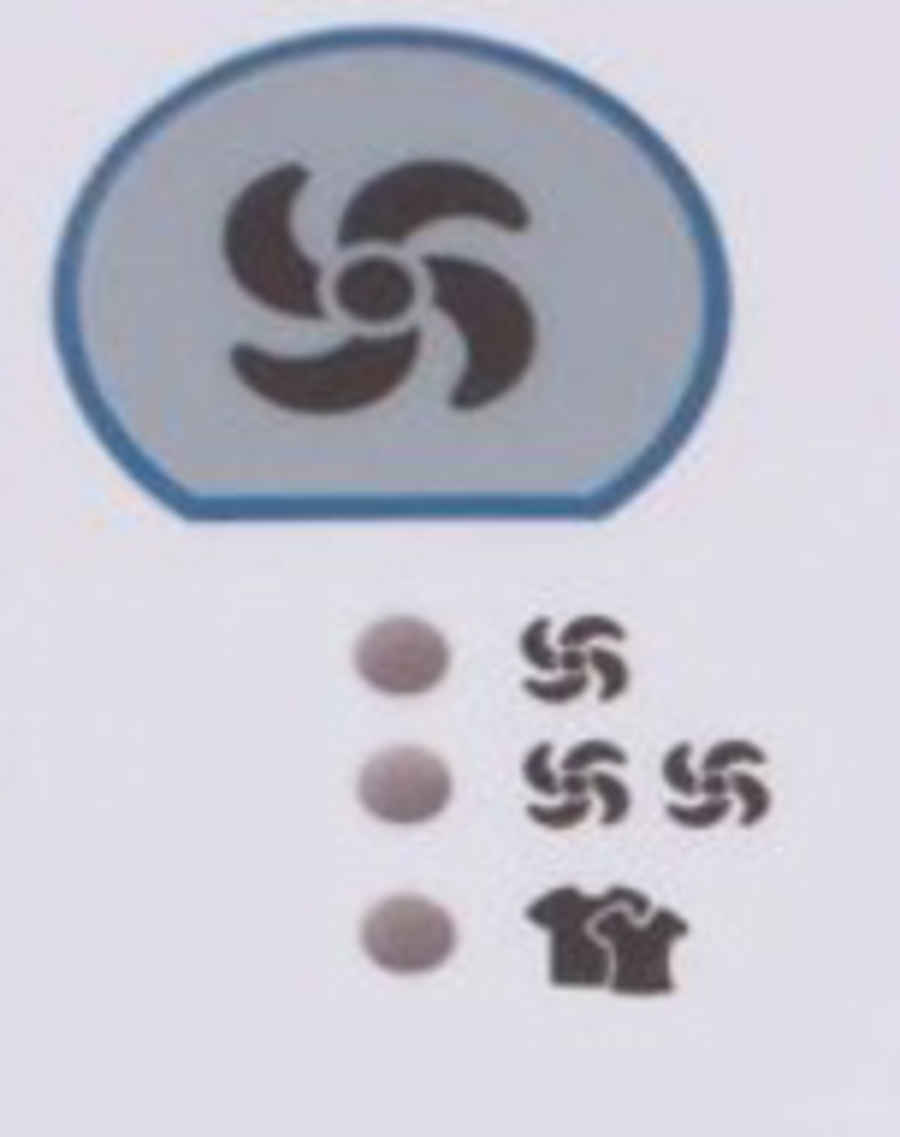 The speed of the fan has a huge impact on the noise any dehumidifier throws out. So it is very good that Meaco have provided you with an easy way to adjust the fan speed.
There are three settings that range from low speed (most quiet) through medium and high speed (most noisy!). Each speed is represented by the corresponding indicator light directly beneath the button.
It is also worth noting that the highest speed setting causes the dehumidifier to run continuously – regardless of the ambient humidity level. This setting is designed to dry washing quickly or when you need extra power to dry-out a heavily damp room.
3) Humidity extraction level: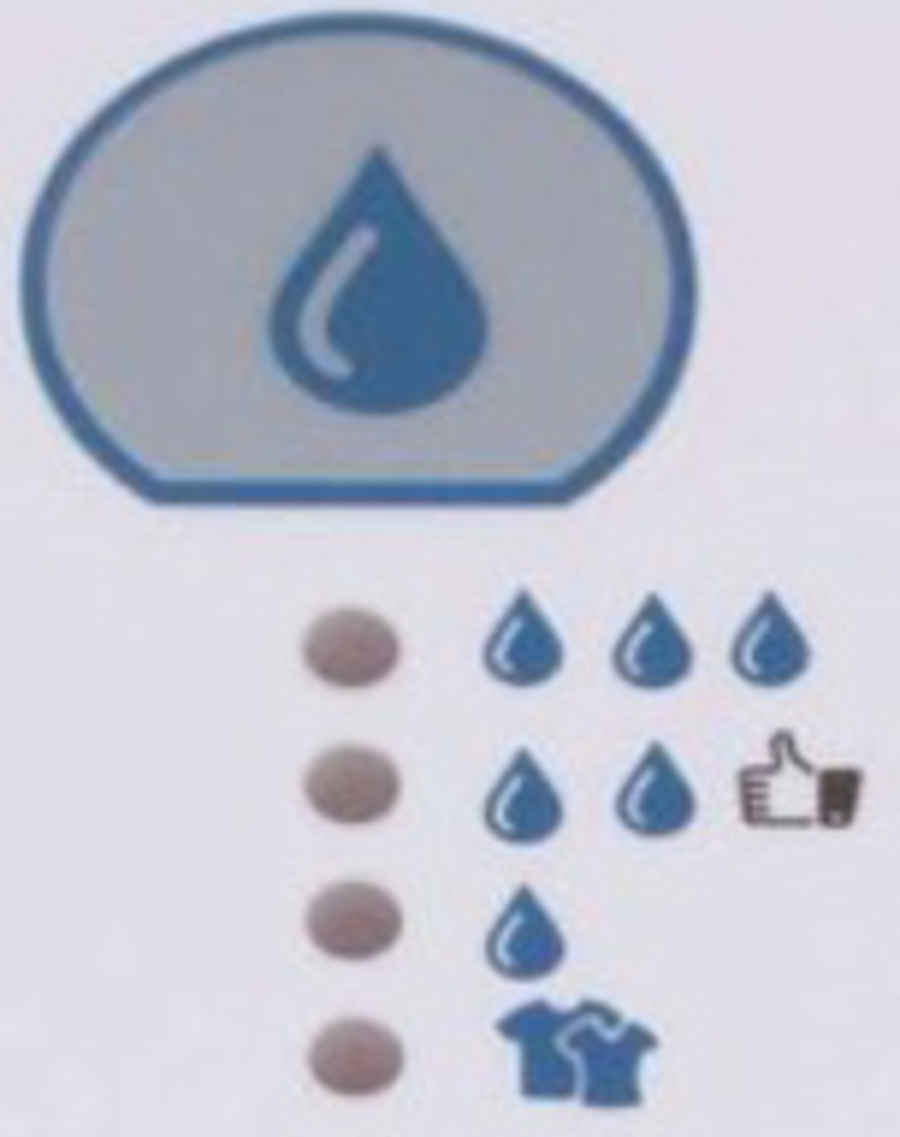 Denoted by a water drop this button provides control over the ambient relative humidity within your home.
It has four settings, and just like the Fan speed button, each setting is represented by an indicator light beneath the button itself. All that is required to select a particular setting are a few presses of the button until the setting you want is illuminated – easy!
It is possible to bring the relative humidity down to 40% (bearing in mind that around 30-35% things start to get uncomfortable and for the average UK home the ideal humidity level is around 50-55%). This is the most powerful of the settings.
Next is the 'normal' mode setting. This aims to reduce the relative humidity to around 50% (the most ideal level) and is probably the setting most people will use for day to day use.
It is sufficient to stop mould growth and condensation on windows and will operate effectively down to around 5 degrees Celsius. If temperatures drop below this, the 'maximum' setting is recommended to keep the drying efficiency of the machine up.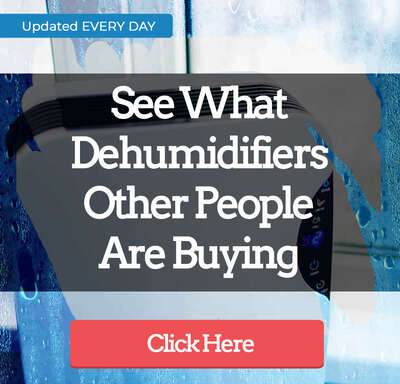 Next is the 'minimum' setting and will aim to keep the relative humidity at 60%. This is ideal if you just need to keep a room dry (opposed to your whole home) and will keep mould at bay within the room it is placed.
Finally, we reach the laundry mode, this powerful setting will run continuously aiming to bring the relative humidity down to a very dry 35% to really help speed up the drying of washing.
One of the things we haven't mentioned, to avoid being repetitive, is that after the relative humidity has been reached (for all but the 'laundry' setting) the machine will automatically switch itself off but keep the fan gently circulating for about 5 minutes before going to sleep for 30 minutes.
After 30 minutes have elapsed the fan will start up again for 5 minutes to check the humidity levels. If the relative humidity has risen above the selected threshold in this time the dehumidifier will spring back into action.
This is a great feature for three main reasons:
The first is that it can be left to work relatively unattended. The second is that it will help reduce the operating costs of the device -which is always a huge plus. Lastly, it prevents over-drying of the desiccant material within the machine and will help increase its lifespan.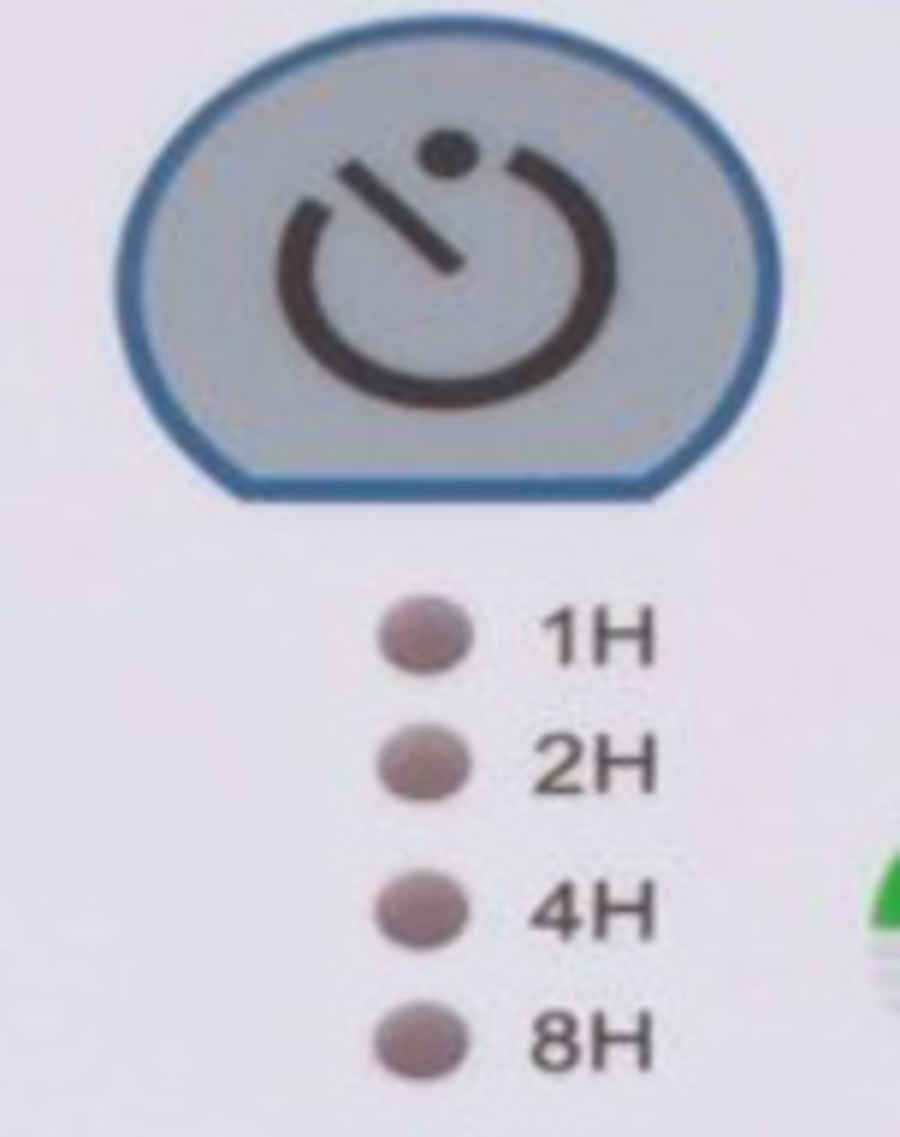 The final button on the control panel is the timer. This button overrides the other settings and will completely shut off the dehumidifier after a set time – giving you that extra bit control over how long it runs and ultimately how much it costs to run.
The four settings run a binary sequence doubling each time. Meaning this device can be set to run for 1, 2, 4 or 8 hours before shutting itself off.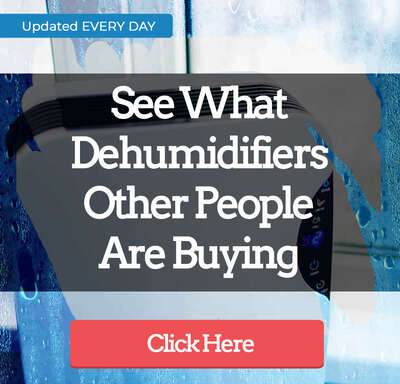 Performance & Features
Let's begin this section by looking at the operating range of this dehumidifier. Because the DD8L is a desiccant dehumidifier it can be used in conditions where compressor dehumidifiers loose performance or stop working entirely.
In fact, it can operate in temperatures of between 1 – 37 degrees Celsius. This huge range makes it very ideal for UK temperatures, allowing it to deal with the (occasionally!) very hot summers and cold winters we have. The low 1-degree performance will allow the DD8L to be used in outbuildings or garages on all but the very coldest of winter nights.
Meaco specifies that this dehumidifier can operate effectively in up to a small 5 bedroom house. Though we would probably only recommend the DD8L in homes of up to 4 bedrooms. This makes it ideal for small homes, flats or apartments where damp/condensation is a problem.
How the DD8L Works
We mentioned above that this desiccant dehumidifier – this means it uses a filter containing a hygroscopic material to absorb excess moisture from the air.
This process of water absorption makes models like the DD8L much quieter when compared to their refrigerant counterparts – which often use a much noisier compressor pump to remove water from the air.
Inside the machine a wheel full of a material called Zeolite which absorbs the excess moisture from the air. Once this wheel is saturated with water it passes through a stream of warm air which forces out the moisture making it ready to be used again.
The warm moist air hits a metal plate causing the moisture to condense and therefore be removed, and the heat used during this process is mixed with the dry air before exiting the machine. This generally blows out 10-12 degrees warmer than when it went in and is why desiccant dehumidifiers can warm, as well as dry, rooms.
Things To Note About ZeoliteOne interesting point that some people have noted is that sometimes this dehumidifier can produce a burning or slightly sour smell. Rest assured though your unit is not about to burst into flames.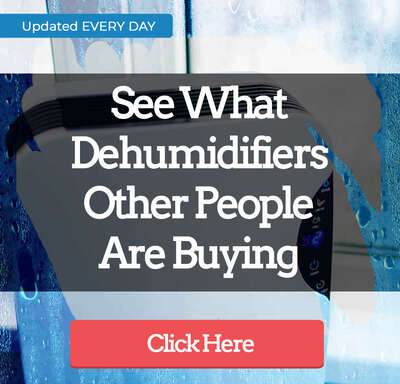 It is, in fact, a natural by-product of the Zeolite used to absorb the excess moisture. In addition to water, it can also absorb smells from the air too, these then can be released back into the room whilst the unit is operating. This is normal and should subside pretty quickly.
Safety Features
Making sure your unit does not destroy itself whilst it is working is also a pretty good idea. To meet this end Meaco have introduced a number of really quite clever safety guards that turn off the machine in the event of a problem.
When a problem is detected the control panel will lock-up and the fan light will flash. The machine will then only operate normally when the correct operating conditions are met – preventing self-damage and extending the life of the device.
Typically if the machine gets too hot or if the external temperature is too cold are situations where the machine will stop operating.
DD8l Pros and Cons
Pros
Money saving Meaco Control Logic
Lightweight and easily portable
Ideal for caravans and boats
Wall mountable with bracket (sold separately)
Cons
Tank mounted at the rear of the unit
Not the quietest dehumidifier around
What we think about the Meaco DD8L
Despite its compact size the DD8L is certainly not lacking on power, features or options. From its ability to save you money whilst operating through an array of easy to use controls, to its safeguards to prevent damage – this device packs a lot in.
Meaco have really made a solid entry here that certainly stands well when compared to many of the other models offered by its competitors. It is ideal for use in flats and homes of up to 4 bedrooms.
Plus because it is a desiccant dehumidifier it is equally at home being used in colder outbuildings, garages and caravans.
Prices & information last updated on 2023-11-29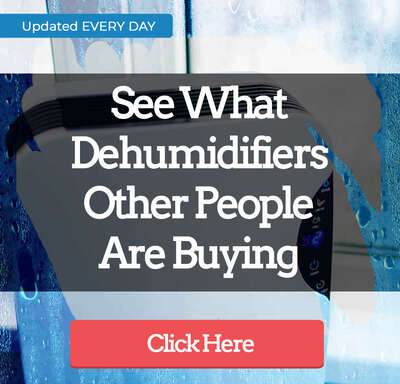 Looking For a Cheaper Dehumidifier Than The DD8L?
The DD8L's price has been climbing of late. In its place we'd recommend the very effective DD122 Simple or the very budget-friendly electriQ 10L.